Decoration Ideas
·
MAR 30, 2021
Island kitchens: 12 ideas to make your kitchen a place to meet
Like most people, you've thought about an island for your kitchen redesign. But are you sure what you should choose? Below we give you twelve ideas based on colour, style and layout. The material? Always Arklam: functional, hygiene and 100% safe.
Islands have become queens of the kitchen. But few people – regardless of whether they have a small or large kitchen, narrow, square or open-plan kitchen – choose one when redesigning their kitchen. Kitchen islands are stylish, but above all they are functional, as they can incorporate a hob or fridge, and they hugely expand the amount of storage space. They also extend the cooking space, and if chosen correctly, they can include useful everyday elements like a table or bar. Imagine enjoying your breakfast or a relaxing afternoon coffee here?
Islands are a kitchen trend for 2021. But why? After a 2020 when a harsh lockdown allowed us to enjoy our home more than ever, islands have become a key feature for welcoming families and potential guests. In fact, some people establish their kitchen as the 'entrance' or another part of the lounge, with the island a central feature where everyone meets and around which everything revolves. Like the 'island social mood'? Take a look at these twelve design ideas for island kitchens.
Open-plan kitchen & living rooms with an island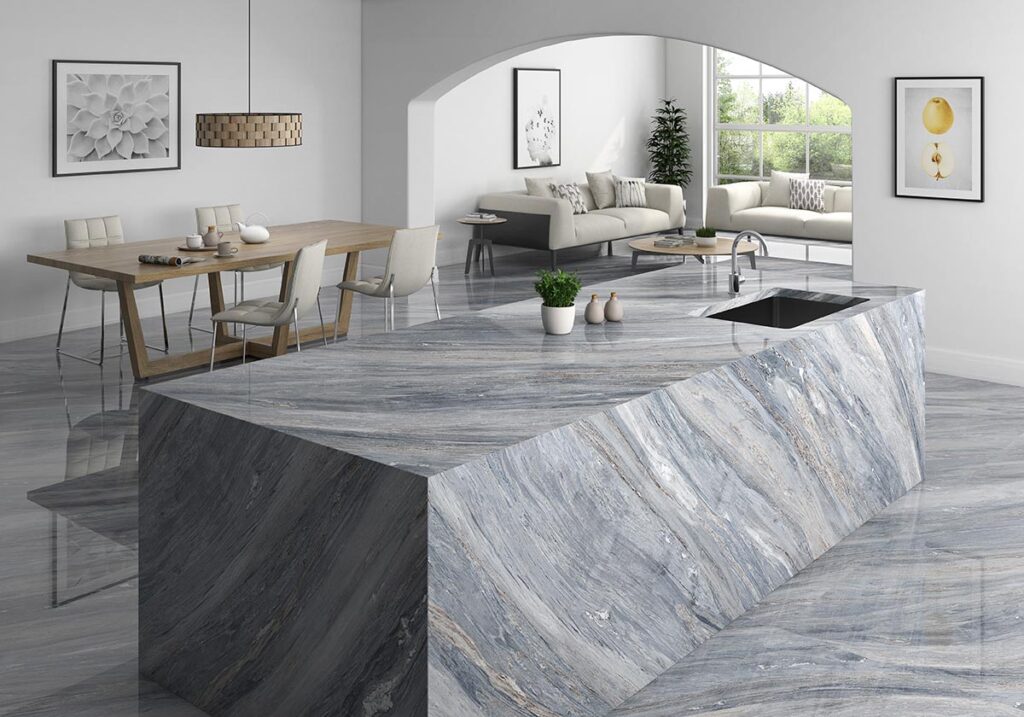 The kitchen has been revived in recent years, transitioning from a room which used to be hidden away to a room which is incorporated into other parts of the house to always remain in view. The new beautiful kitchen, created to be contemplated. Although it is usual to cross over into areas like the terrace, open-plan kitchen & living rooms are the most popular layout in modern homes. In fact, according to a Houzz study, 43% of kitchens are open-plan into the dining room. And in this regard, the island can be positioned in the centre, or used as a visual barrier and transition between spaces.
Kitchen island with bar
The kitchen island often extends the worktop at the same height and becomes a bar. The ideal solution for those who prefer to eat in the kitchen for convenience, reducing cleaning, and saving time and travel. A kitchen island with a bar can also be used as a place for socialising, and stools can be a design touch which adds personality to the kitchen.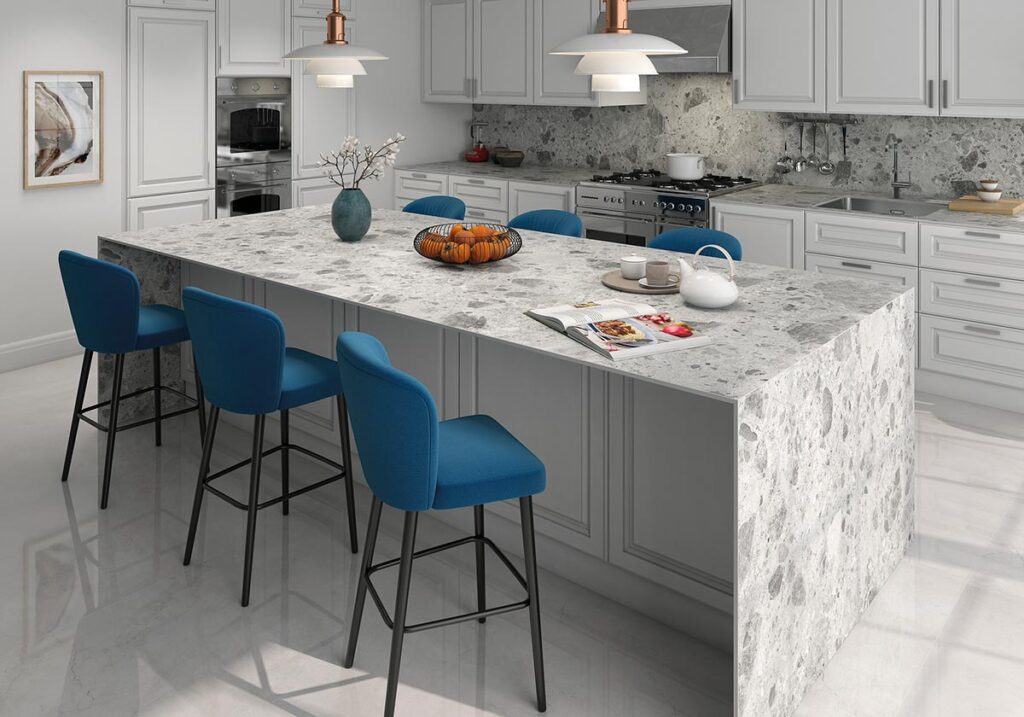 Kitchen island with table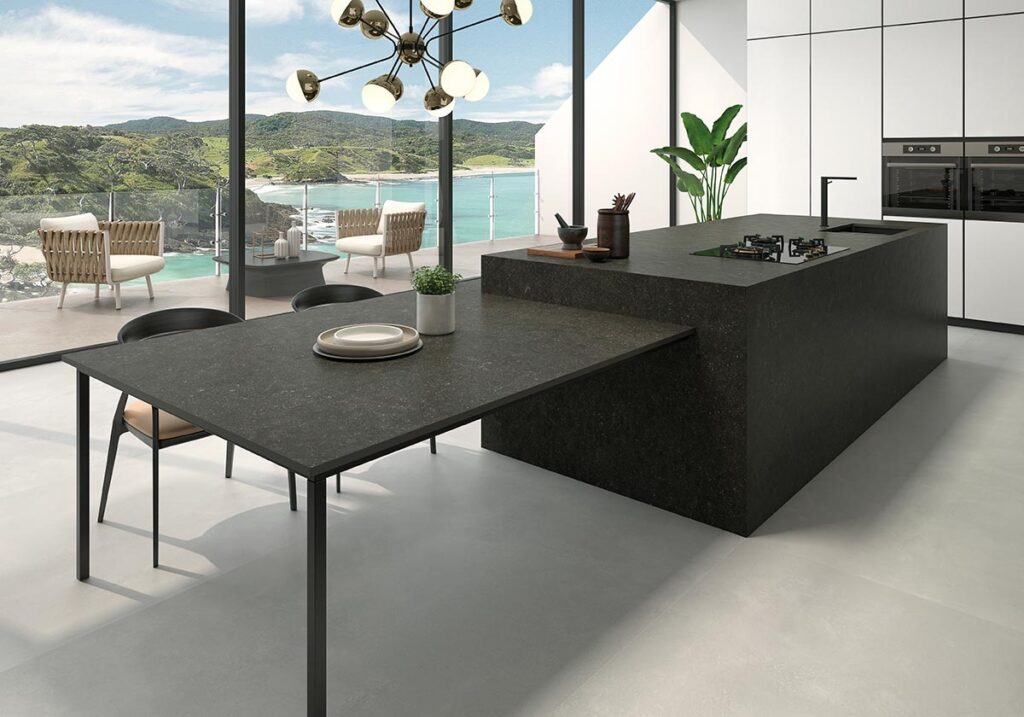 If you are a 'kitchen eater' but in a relaxed and leisurely way with your family, in addition to a bar you have the option of a kitchen island with a table. Arklam's versatility with regards to design, handling and being cut-to-size means you can create a coordinated table in line with the island at the size you want. You can also place the table at the height you want, adding stools or the chairs you've added to your wishlist.
How to choose the island based on kitchen style:
Modern island kitchens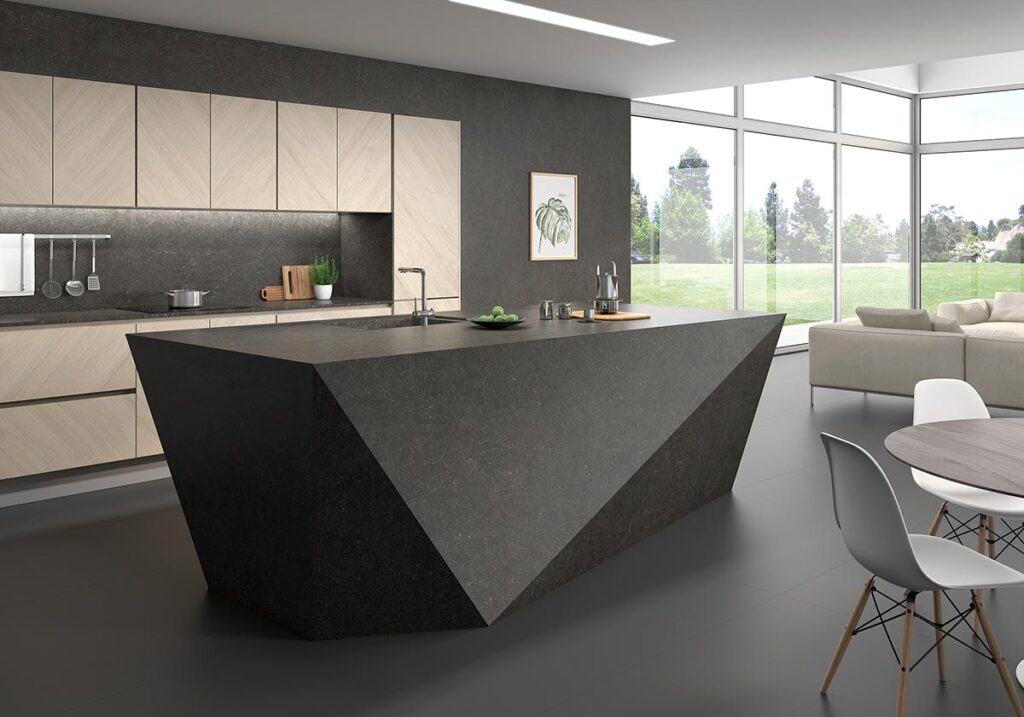 The most exclusive and luxury kitchens do not have a traditional island. Did you know that you can have one in any shape you want? Arklam demonstrates that in this design using Pierre Bleu sintered stone, ideal for kitchens with modern, dynamic and daring islands. Can you think of any other unique designs using Arklam?
Rustic island kitchens: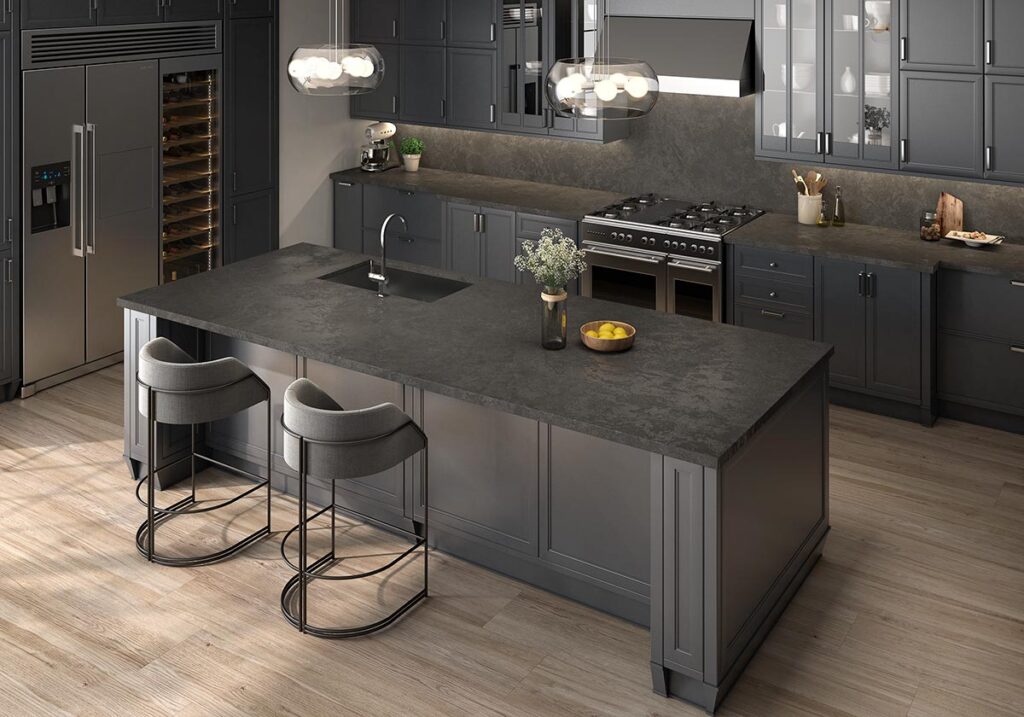 The diversity of Arklam designs means that the large porcelain can be adapted to nearly any style of kitchen. If you prefer rustic island kitchens, you might like this idea with Vulcano, also used in the wall panels, and wood-effect porcelain floor tiling. The selection of furniture and decoration is also crucial for a more traditional or classic revival rustic style.
Industrial-style island kitchens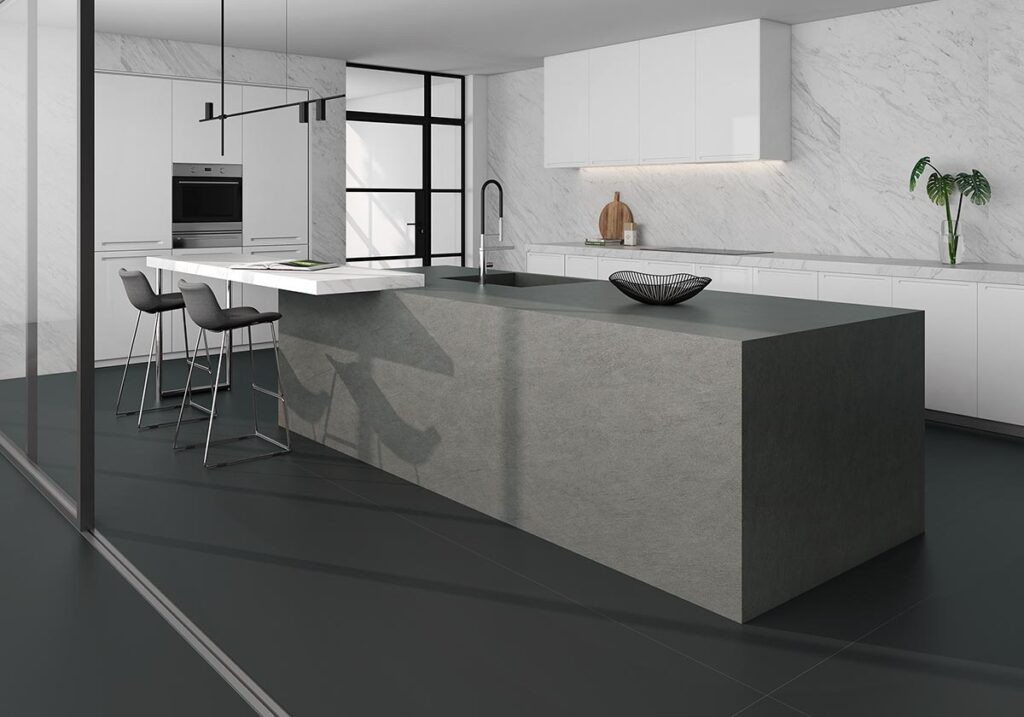 Industrial style has been in the top 5 most in-demand designs for years. If you like the idea of an industrial-style island kitchen for your project, you might like this idea, which combines white, black and shades of grey. Each area has its colour: white for the working area and bar, black for the flooring, and grey for the worktop, standing out aesthetically from the rest. The most purely industrial touch is the glass doors and matte black lamps and taps.
How to choose the kitchen island based on colour:
White island kitchens
White kitchens are timeless, but they are also the colour touch of the moment. White is as timeless as marble-effect designs. How about this modern kitchen using our Atlantis collection? Whilst this marble-inspired porcelain offers a very modern feel, an avant-garde touch is added with the rustic wooden flooring. Still not sure about your design? Be eclectic!
Black and white island kitchens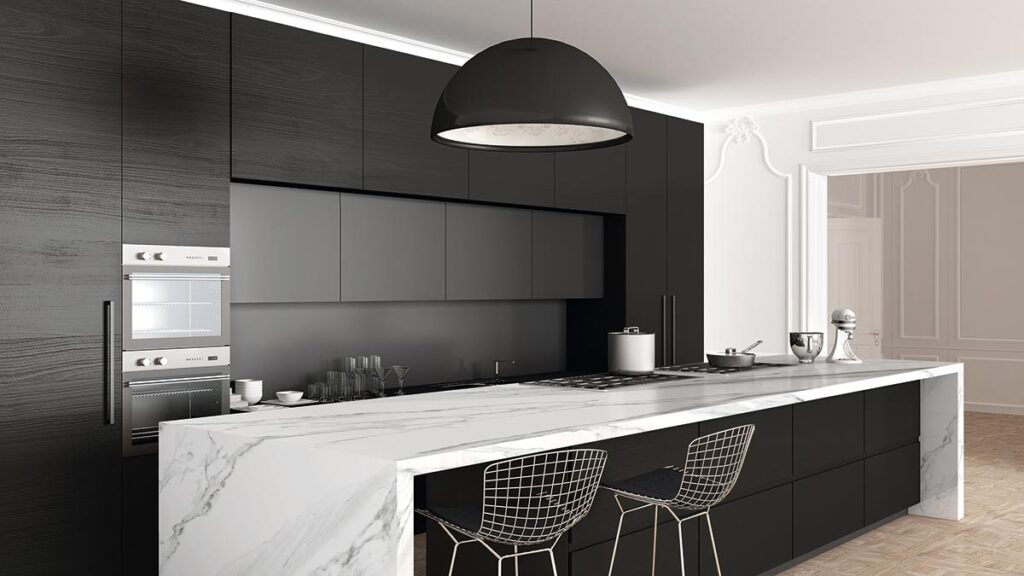 Another idea with Arklam Atlantis for black and white island kitchens. If, like in this kitchen, you want the island to stand out from the rest of the design, choose one of the two colours and keep the other for the rest. In this example, the island layout also allows a bar to be included on one side.
How to choose the island based on layout:
Long island kitchens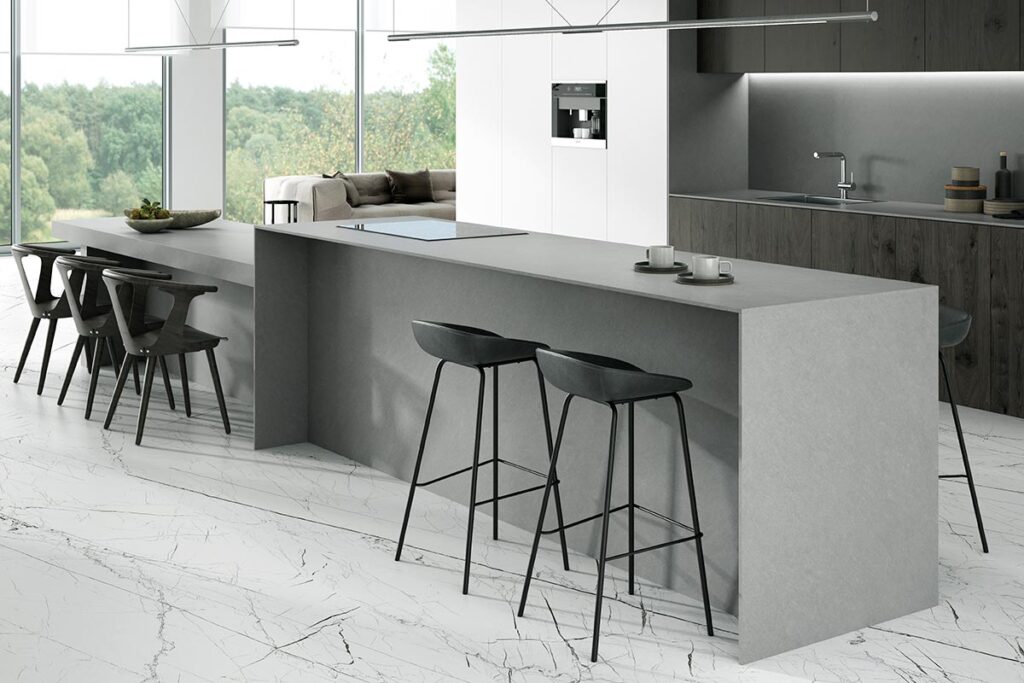 Long kitchens – which does not mean small – should not have problems with layout, other than leaving enough space between the island and working area and wall panels. Generally, it is recommended that you leave at least 1.10 m between the island and rest of the kitchen to make it easier to work and move about. For this type of long kitchen, it is recommended that you opt for a parallel layout like in the image, which visually extends the space, with the island indicating the direction of movement.
Square island kitchens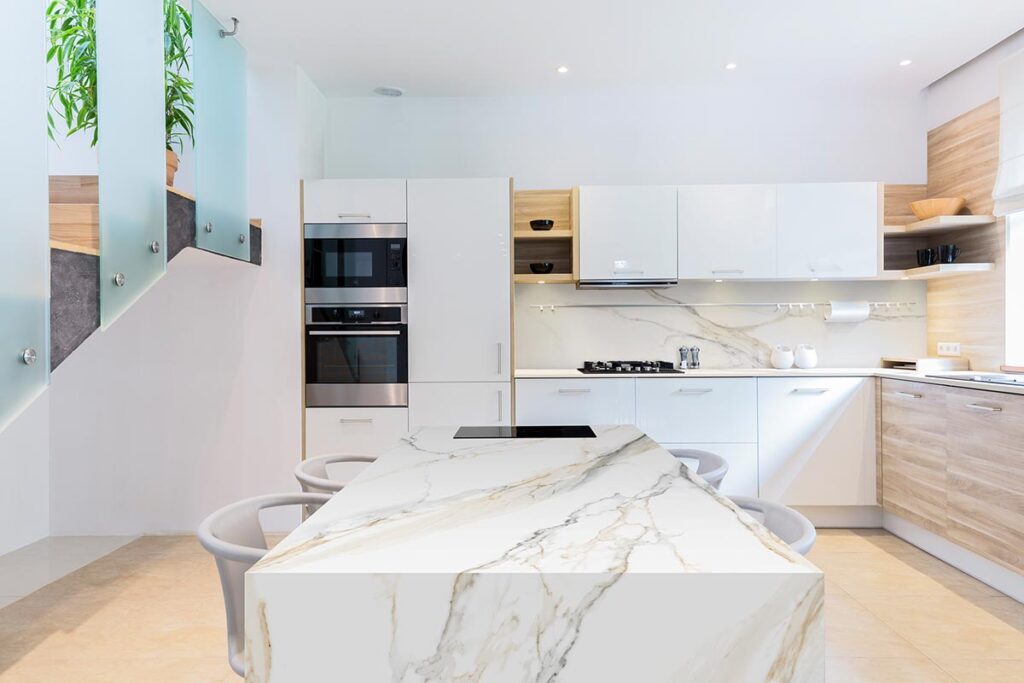 In square island kitchens like in the photo, the island is usually placed at the centre, with the rest of the zones in an L or U shape. As a square kitchen with enough space on both sides of the island, space has been left above both sides of the worktop so that the island can also act as a table.
How to choose the island based on kitchen size:
Small island kitchens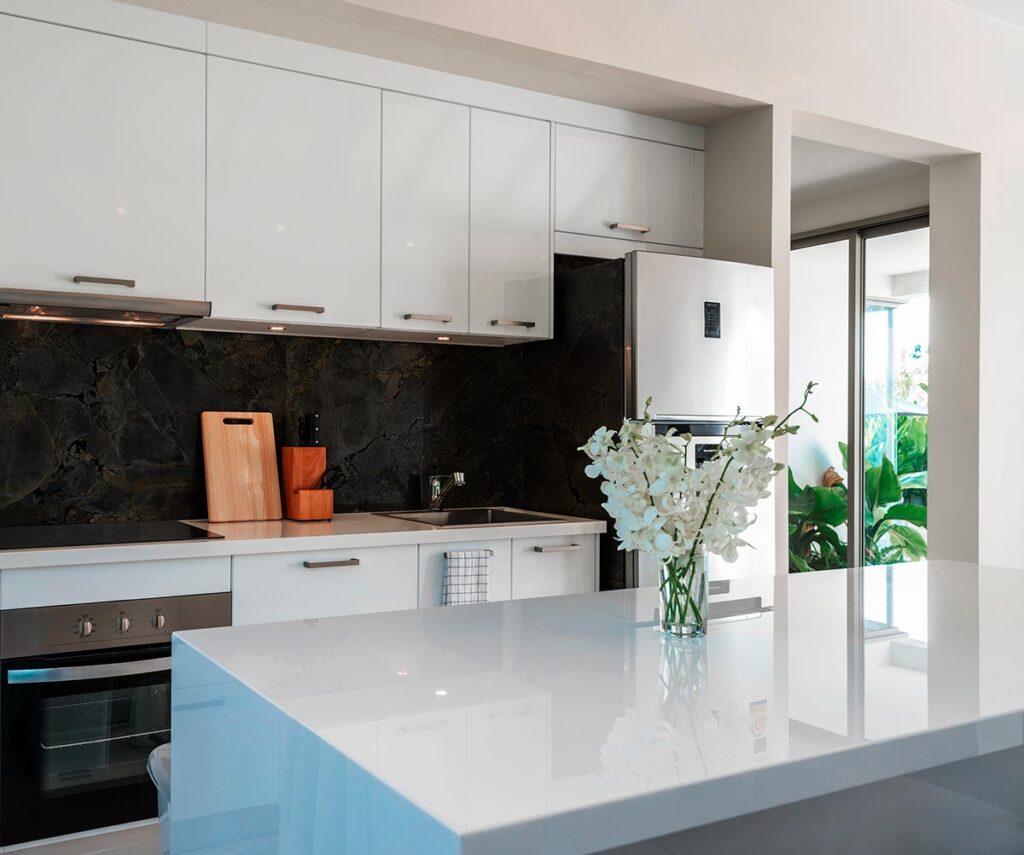 It seems that islands and small kitchens are doomed not to work together, but in most cases, that is not true. If you know how to arrange and make the most of the space, you can achieve a functional, elegant and modern small kitchen. It is important to consider the available space to leave enough room around the island so that the kitchen is comfortable and functional – from then on, everything is possible! The benefit of Arklam is that it can be cut-to-size, so you can choose an island which is as big or small as you want. What about this idea? For small island kitchens, it is crucial that you use it as a table or bar, as if you don't want to give up eating in the kitchen, you won't need additional furniture. White can also work well to extend the space, as well as including large windows to let natural light flood in.
Large island kitchens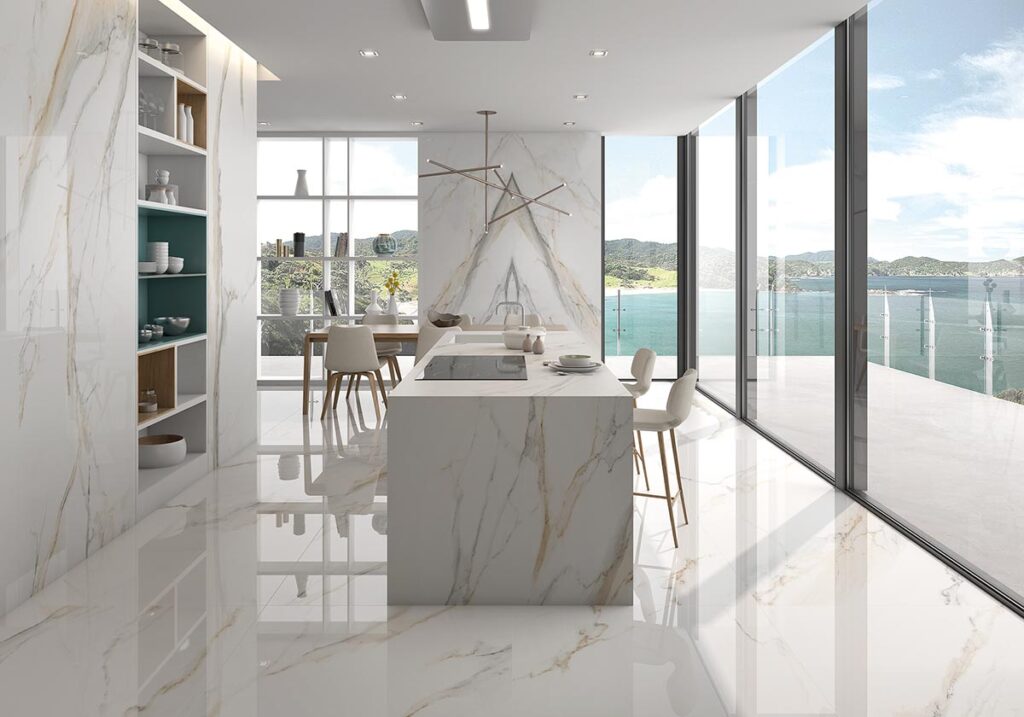 Unlike small kitchens, space is not a problem in large kitchens. Despite this, you need to be careful not to choose an island which is too small, as it will fade into the space. The good thing about a large kitchen is that you can choose your preferred layout: parallel, U-shaped, L-shaped… as well as an island with a large space to work, or an island with a table for the whole family.
How about you: what is your preferred island design?