Decoration Ideas
·
NOV 24, 2021
Undermount sink versus countertop with integrated sink: choose the best one for your kitchen
Latest generation kitchens are moving away from traditional countertop sinks to more minimalist sink configurations. You choose the one you want: undermount sink or countertop with integrated sink? With sintered stone, anything is possible.
When renovating your kitchen, one dilemma is what the sink will look like and where it should be located. Traditionally, sinks could only be placed against the backsplash, as few kitchens had islands, and if they did, it was mainly reserved for storage or as a working area. Nowadays, it's more and more common to find islands with sinks, as well as stovetops, as cooking has become a shared, social experience, fully integrated into family visits and gatherings.
Another sink-related dilemma is the type of installation. And the fact is – as dictated by trends – new generation kitchens are leaving behind traditional countertop sinks to opt for minimalist configurations that are just as functional as undermount sinks or countertops with integrated sinks. Due to its wide range of cutting and processing possibilities, Arklam sintered stone  provides very clean, coordinated and elegant results in undermount sinks or countertops with an integrated sink. The resistance, durability and easy cleaning of the material are also an added value for a space that requires high levels of hygiene and must be free of bacteria. Below, we offer you some ideas and tips to help you decide on the best sink configuration for your kitchen.
Undermount sinks: what are they and what advantages do they bring?
An undermount sink is installed recessed into the countertop. They are normally made of a different material than the countertop itself, mainly quartz, natural granite or stainless steel, although porcelain sinks are also available. Different aesthetic options include undermount sinks that are either completely coordinated in colour with the countertop, or starkly contrast with it – for example, a white sink below a black countertop, or vice versa. Another decision to take – and this is where the needs of the individual and the available space come into play – is whether to install an undermount sink with two basins or just one. The possibilities (and needs) are endless.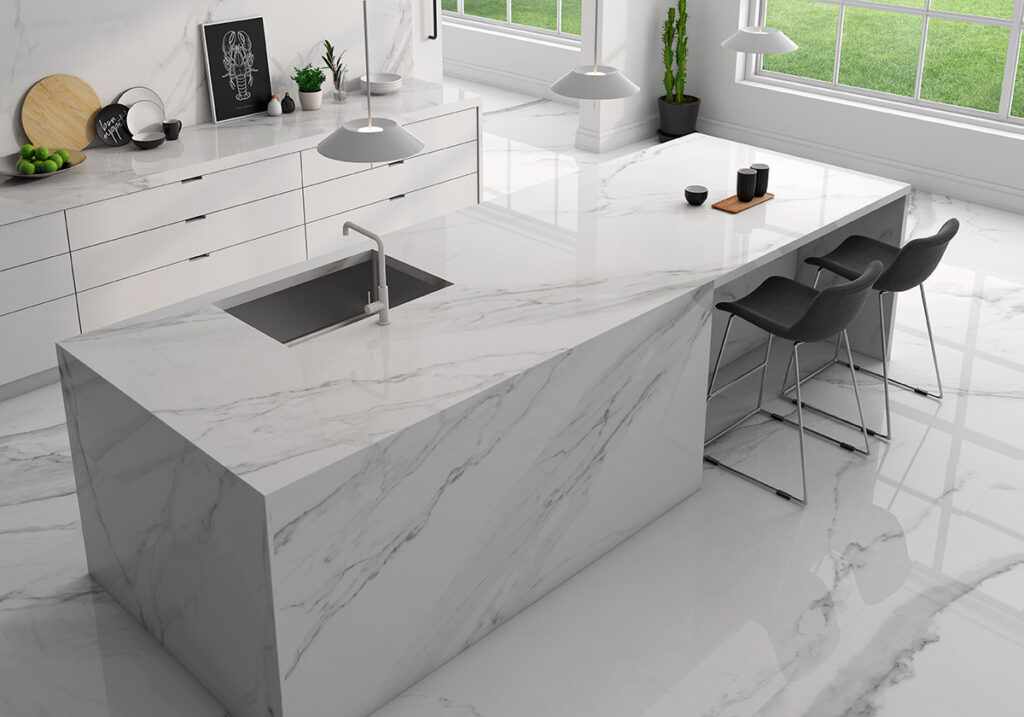 Advantages of undermount sinks
One of the main advantages of undermount sinks is that they're very practical and clean. As the sink is located underneath the countertop, it's much easier to clean, as dirt can be wiped directly from the countertop into the sink with just a cloth. In addition, as there are no joints, there's no embedded dirt and corners are minimised, creating a much more hygienic and aesthetic result.
Other advantages are the design and the aesthetics, making it cleaner and more minimalist.
If the sink needs changing, it's much easier to replace an undermount sink than a top-mount one, and with regards to cleaning and maintenance, direct contact of cleaning agents on the edges of the sink is avoided, thus minimising damage to the sink.
Disadvantages and inconveniences of undermount sinks
The main disadvantage or inconvenience of undermount sinks is that installation is considered to be more demanding, both economically and functionally. Contact a marble worker or professional to advise you on the most suitable installation.
Undermount sink ideas
Black undermount sink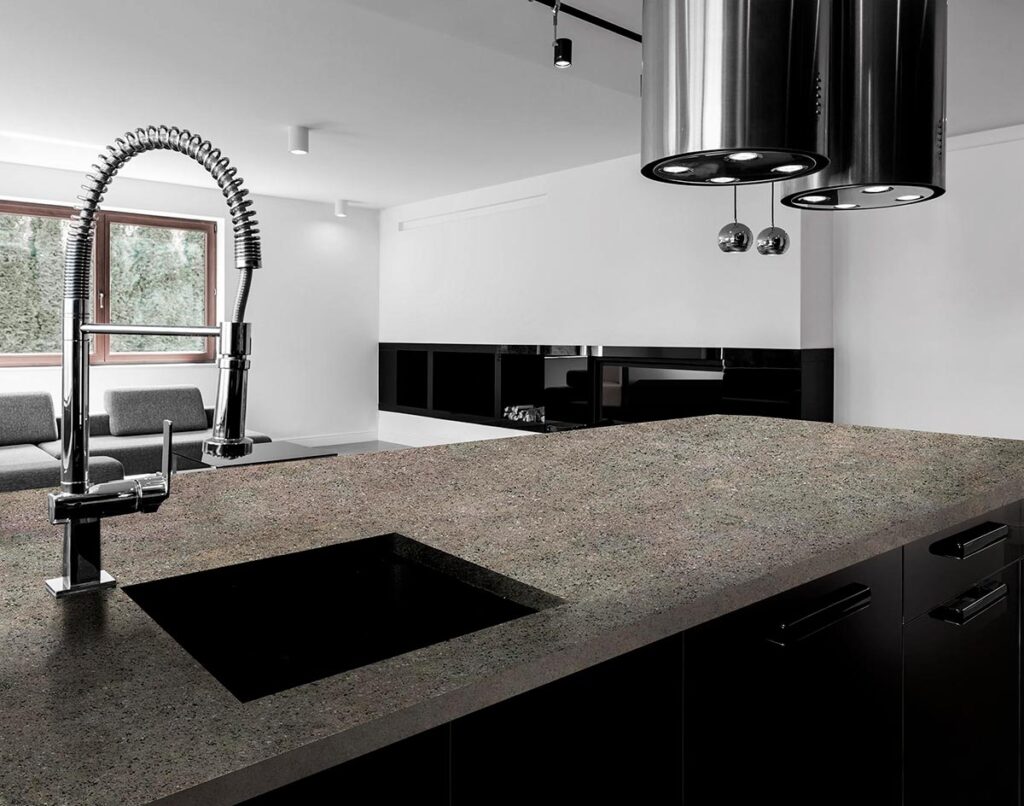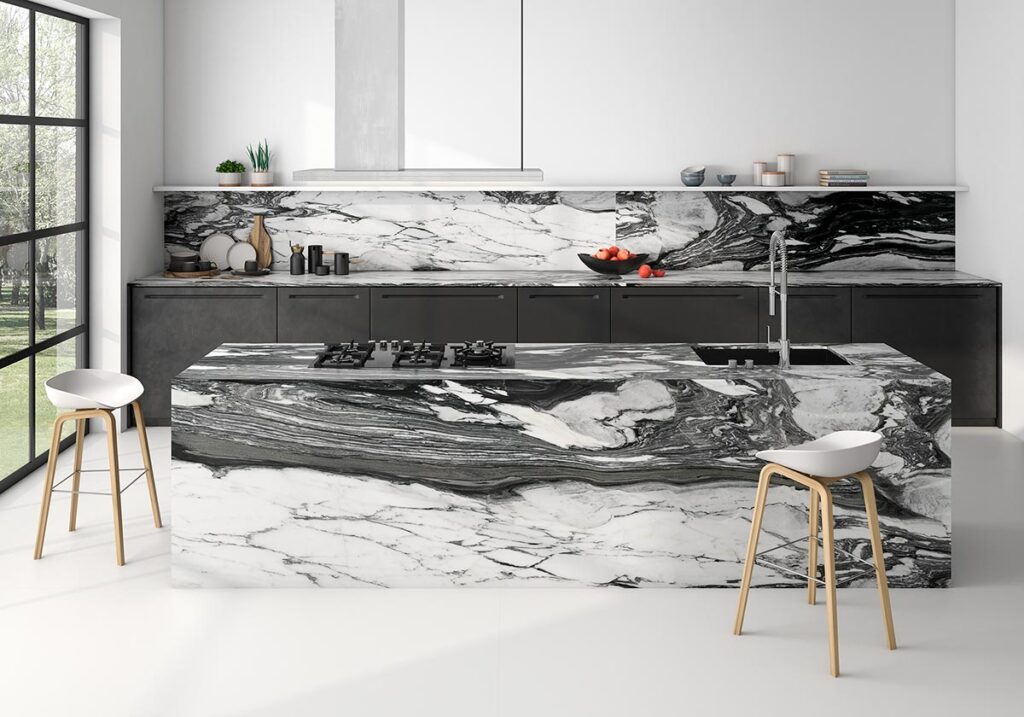 White undermount sink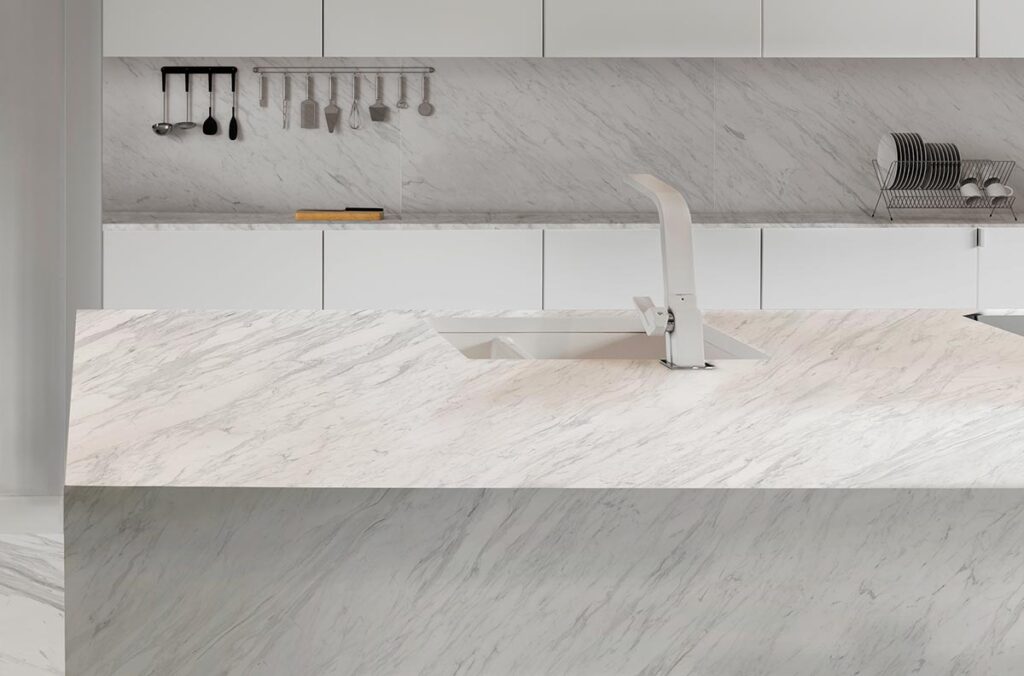 Double-basin undermount sink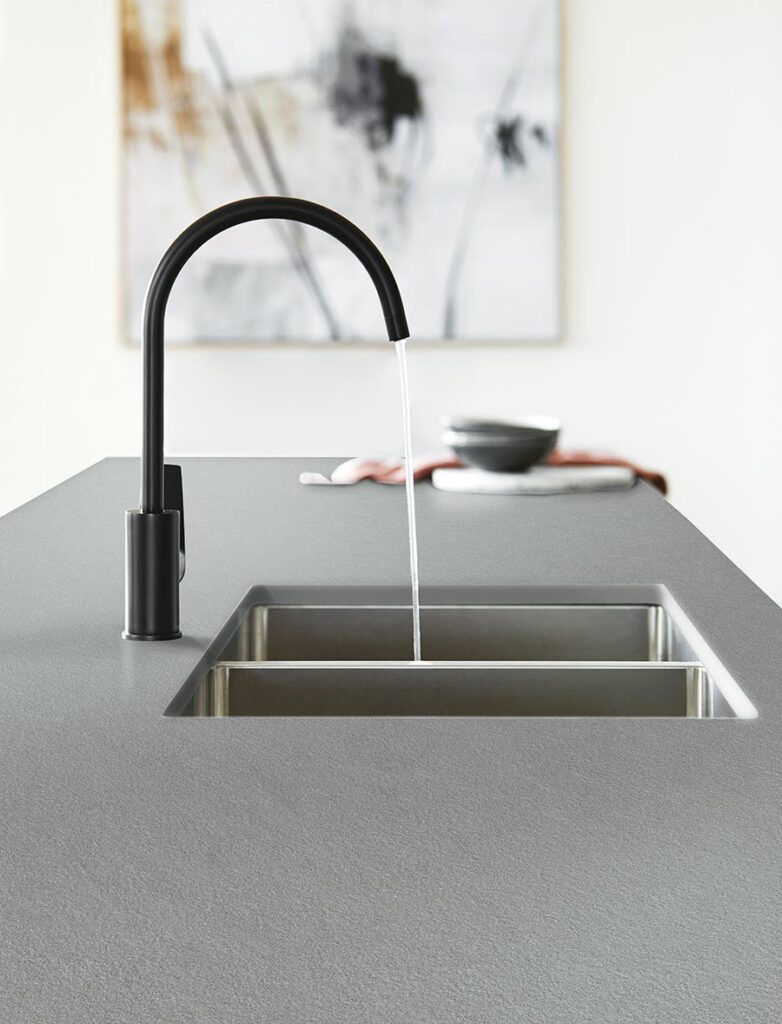 Countertop with integrated sink: coordinated kitchens
In addition to undermount sinks, countertops with integrated sinks are another popular configuration. In this type of set-up, the countertop and the sink are made of the same material, sharing aesthetics and providing a seamless finish. Some materials are fully malleable, making it possible to manufacture a countertop with a directly integrated sink, without joints, and other materials can be used that create a perfect integrated result through cutting.
The advantages of integrated sinks are mainly the same as those of undermount sinks.  They allow for minimalist design and sensational aesthetics – in this case, matching – that extend beyond the countertop into other areas of the kitchen, such as the backsplash and even the floor and wall coverings. The good thing about our Arklam sintered stone is that, thanks to the sheets in different thickness (6, 12 and 20 mm), an overall coordinated look can be created that is totally feasible, practical and modern.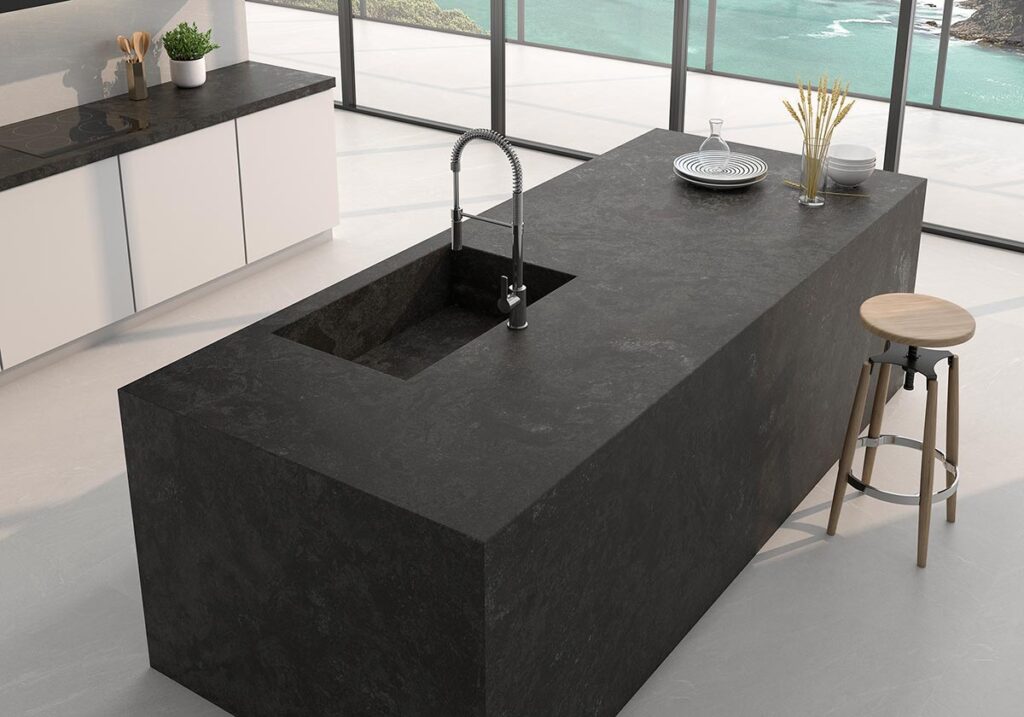 Again, the advantage of stone as an ultra-resistant, durable and easy-to-clean material can't be stressed enough: mechanical properties that were already crucial in undermount sink configurations, but are even more so in integrated sinks, where dirt often remains embedded in the basin.
▸▸Request information if  you think Arklam is the perfect material for your countertop. We'll put you in contact with our trusted marble worker so that you can select the most suitable installation for your kitchen with all the safety guarantees.