Decoration Ideas
·
JUIL 14, 2021
Fresh kitchen ideas (for winning décor this summer)
Looking for ideas to update your kitchen this summer? Get ready for some oven-fresh décor ideas for modern kitchens. The new 2021 kitchen worktop collection from Arklam. Come and see.
Ideas for white kitchens, island kitchens, galley kitchens and kitchens with views… we've got something for everyone at Arklam. And stay tuned – our list contains all the latest trends in kitchen design. Why? Because they're all oven fresh. Want to know more about our new additions for 2021? Let's go! Summer inspiration everywhere.
Mediterranean style kitchens: when blue becomes white
One of the most popular kitchen design styles is (of course) Mediterranean. But we're not talking about the kind of bold and ornate Mediterranean style that's loaded with navy blues. We're talking about a more minimalist look, bathed in light and serenity. We mean the kind of tranquil, bohemian style you find on islands, where lighter colours and abundant natural light reign supreme. As you can see in this Mediterranean kitchen concept, the kitchen layout focuses out to the terrace area – a source of light and an exclusive space with sea views. The worktop is from Arklam's Bateig Blue collection, inspired by limestone, sandstone and the biocalcarenite rock that gave it its name. Our sintered stone slabs replicates the rock with stunning precision, echoing its unique and subtle variegation and fossil accents. The subtle blue hue will transport you right to the ocean, but it doesn't deviate far from the neutral colour palette. Bateig Blue is also available in a 6 mm thickness, meaning you can use it for your worktop, island, flooring and backsplash and achieve the coveted stone 'total look'.
Beige kitchens: I'm walking on sunshine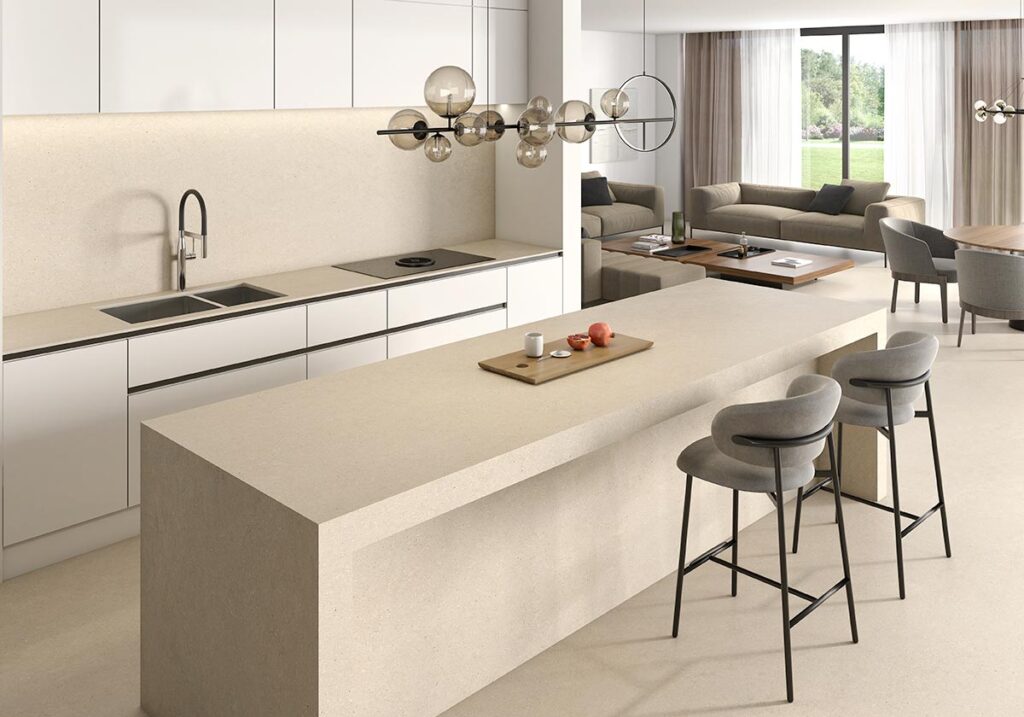 We promised you fresh kitchen ideas for your summer update, so how could we not include this warm, on-trend proposal?
Beige kitchens are a must in modern kitchen design, offering a fabulous alternative to white. They'll give you instant warmth without veering too much away from that tone. This colour will also make your space feel bigger and brighter, and it'll up the welcoming feel of a room as functional as a kitchen.
Introducing our Bateig Verona collection for 2021 at Arklam, available in 6 and 12 mm thicknesses and the perfect embodiment of the soft, warm summer light. As with our Blue series, Verona is inspired by natural Bateig stone (also known as Novelda stone), taken directly from the quarry to take the premium look of our collections to the next level. Here, the worktops, floor and wall tiles replicate the look of Crema Marfil marble, with sediment details, uniform colours and genuine veins from the same stone.
Grey kitchen: worktops that'll rock your world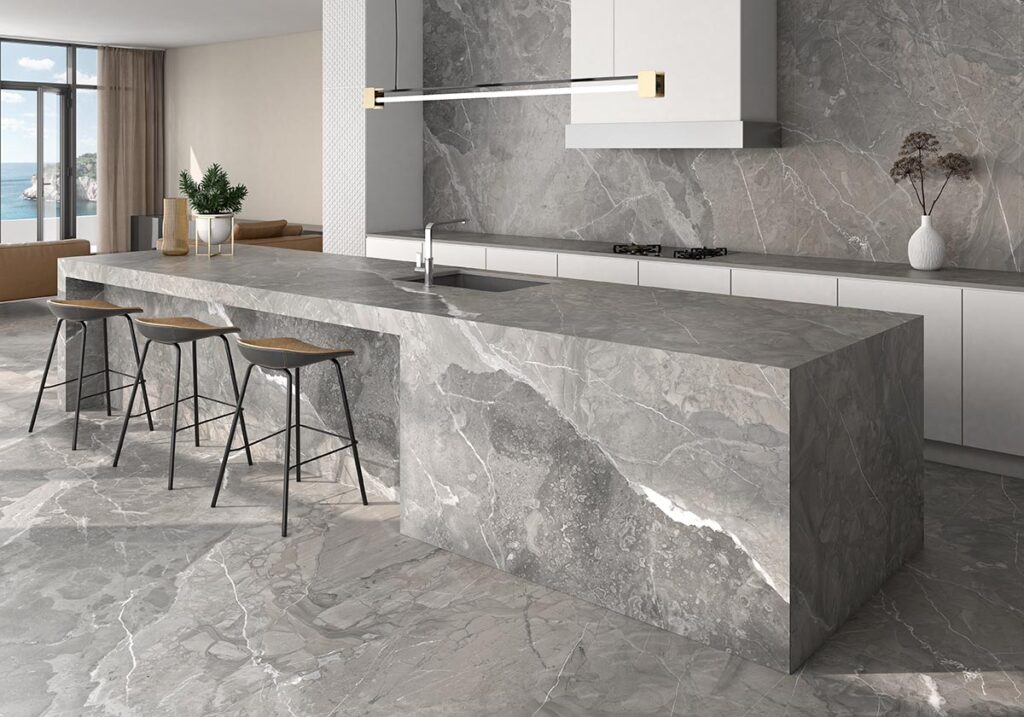 You've got one thing clear: you want a grey kitchen. How about grey stone? Rosa Persia is one of the most exclusive Arklam products new in for 2021, thanks to its incredibly stony look and huge variations in graphics and colour. Grey – in all its shades – is the dominant colour, but you'll also see small glimmers of beige and pink on the surface, adding a sense of warmth to the coldness of the stone. Another unique feature is the masterful block composition, with some areas featuring heavy crystallised white veins combined with other much lighter, sparser areas. Pure elegance – courtesy of nature – that will bring grey kitchens straight to the top of design lovers' minds.
Marble kitchen ideas: the classic is now modern
Whoever says marble kitchens only come in classic styles definitely hasn't seen the latest from Arklam. Lilac is the ideal marble concept for modern kitchens, thanks to its explosion of violet and black veins and tree-like composition. The aesthetic is inspired by the lightweight marble of the same name, and it can be used for worktops (in 12 and 20 mm thicknesses) and matching floor and wall tiles.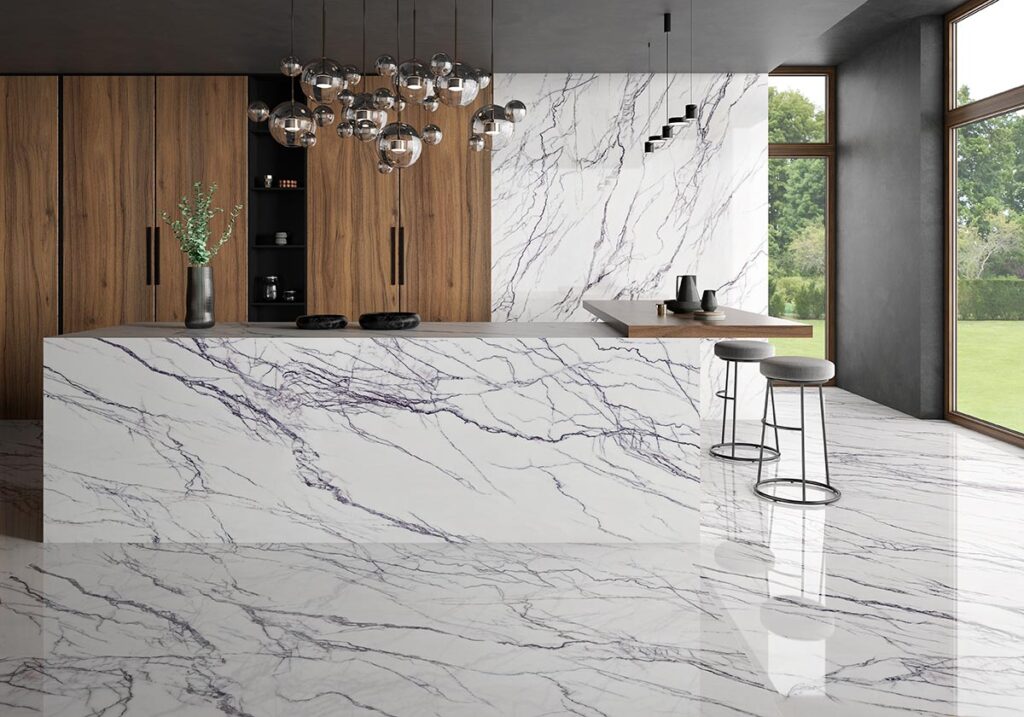 In this room scheme Lilac steals the show, with a matt worktop and polished walls and floors to enhance the sense of light. The wood adds the perfect finishing touch, lending a dose of authenticity to the design – something which is at the heart of Arklam.
Nordic white and wood kitchens: a touch of marble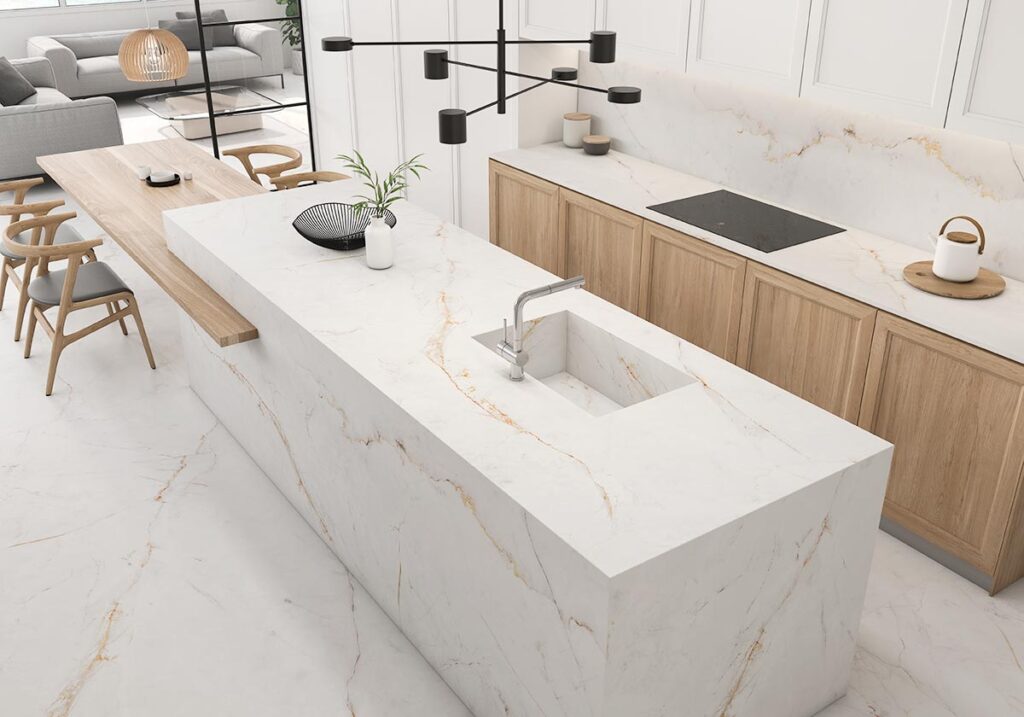 Nordic style has become a timeless classic, and marble is a great fit for it. This Nordic white and wood kitchen concept is elevated by our new Syrac marble: a delicate look that in no way takes away from the modern look of the space. Predominantly white, this series mimics Apuan marble, with a neutral base tone accented by subtle oxidised veins. The stone, available in 12 and 20 mm thicknesses for island kitchens ties in perfectly with the wood furnishings.
▸▸ Discover the latest collections by Arklam in the new Countertops 2021 catalogue, or take a look around our 360º virtual home. Mimetic Landscapes is ready and waiting for you.