Kitchen trends for 2022: this year's (and future years') decorating 'dos' and 'don'ts'
We know two things about the kitchens of the future: 1. They're not what they used to be. They are now spacious, minimalist, warm and welcoming. And 2. Far from hiding, they've stepped into the limelight to become a space for enjoyment and gathering with friends and family. But do you know what kitchen décor styles are 'in' for the new year? Here's a review of the kitchen trends we'll be seeing everywhere in 2022.
It's the year 2022. Welcome to the Age of Kitchen Transformations. Gone are those years when the kitchen was just 'a dark corner' where people only went to cook and wash the dishes. The kitchens of the future are beautiful, flexible spaces, both able to fit people's needs and aesthetic enough to show off and be seen.
The world's top design trendsetters have spoken and shared with us the biggest trends that will dominate our kitchens in 2022. About to do up your kitchen and want to know more? Have a read of what you should keep and what you should cast aside if you want a functional, stylish, in-vogue kitchen.
1. Do | Open-concept kitchens
The kitchens of tomorrow do away with walls to become open spaces that connect the living room and the rest of the rooms in the house. A new concept of 'open plan' that will open your mind and create a greater sense of space. Another great advantage of open kitchens is that you can harmonise the décor, achieving aesthetic coherence between the kitchen and the rest of the rooms. For this, you can install continuous flooring and large-format tiles, like the Arklam sintered stone. The kitchen trends for 2022 also call for open-plan living with only what is useful and essential. Because less is more, always.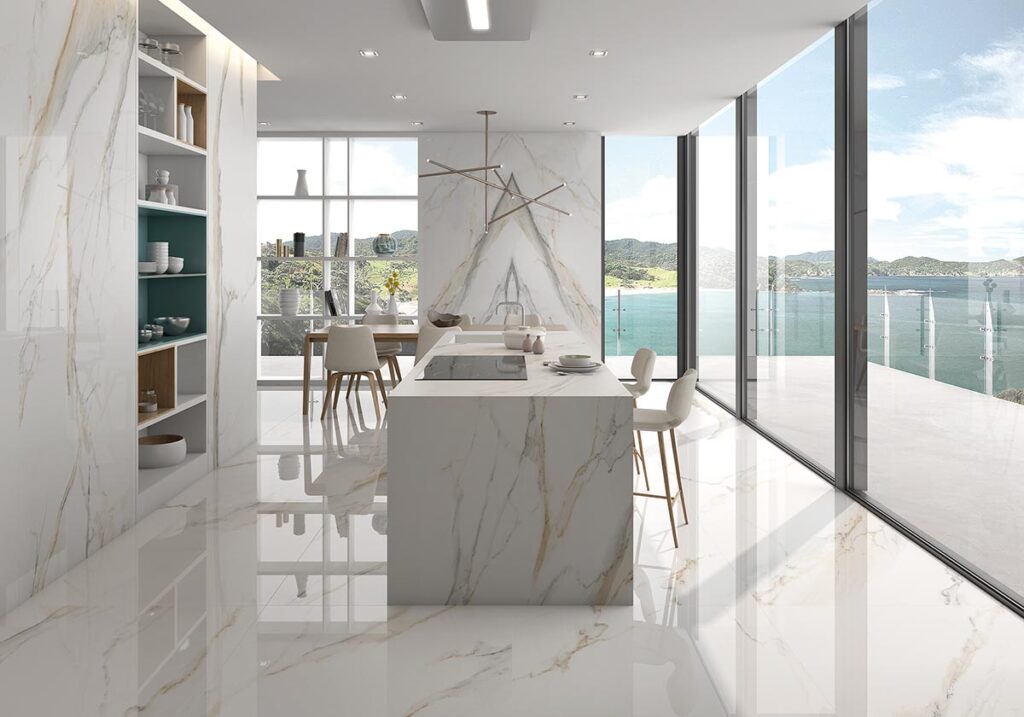 Don't | Small, ornate kitchens
It may be that space is an issue in your home and you have no other choice but to have a small kitchen. If this is the case, don't clutter the space with too much decoration. Instead, focus on boosting light and making room. Having a small space is yet another reason to do away with separate rooms. Knock down partitions and join your kitchen to the living room to give it those extra few metres.
2. Do | Social kitchens: the new 'meeting point' of modern homes
According to the year's biggest trends, in 2022 kitchens will be the heart of the home. A key room and gathering place, as this is where visits from friends and family now take place. That's why kitchens are now beautiful as well as practical, featuring large islands and spacious countertops for cooking, sharing a meal and spending time with loved ones.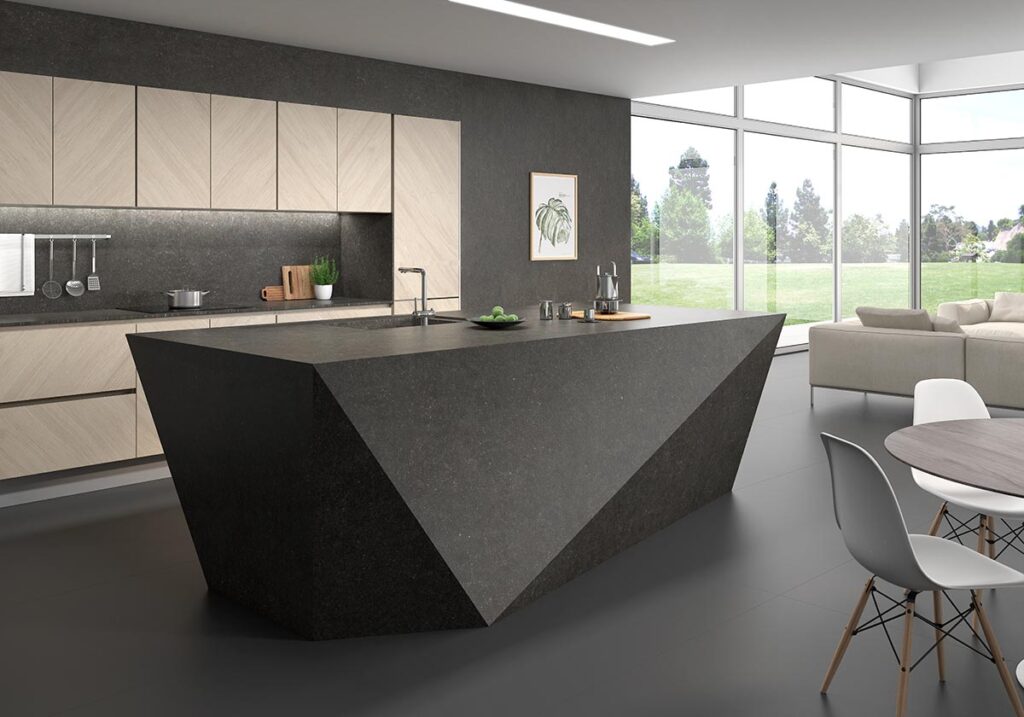 Don't | Kitchens that are 'hidden in the corner'
Kitchens that are just for cooking are a thing of the past. Forget the idea of kitchens being hidden away at the back of the house, away from the prying eyes of guests. Now kitchens are elegant and stylish, designed to be seen and admired. Their place in the home has also moved, and they are now the main room or sometimes even act as an entrance hall.
3. Do | Flexible, chameleon-like kitchens
When we say that the best state-of-the-art kitchens are transforming, it's because they really are. Say goodbye to static layouts and make room for flexible plans with folding furniture, hidden shelves and cupboards and islands that can be both workstations and practical storage areas. It's also the golden age of multi-purpose kitchens; spaces where you can not only cook, but eat and enjoy leisure time. But, how? With extendible islands that can be turned into a table or countertop, leaving room for a bar area. Choose which layout will best suit your and your family's needs to make it entirely your own.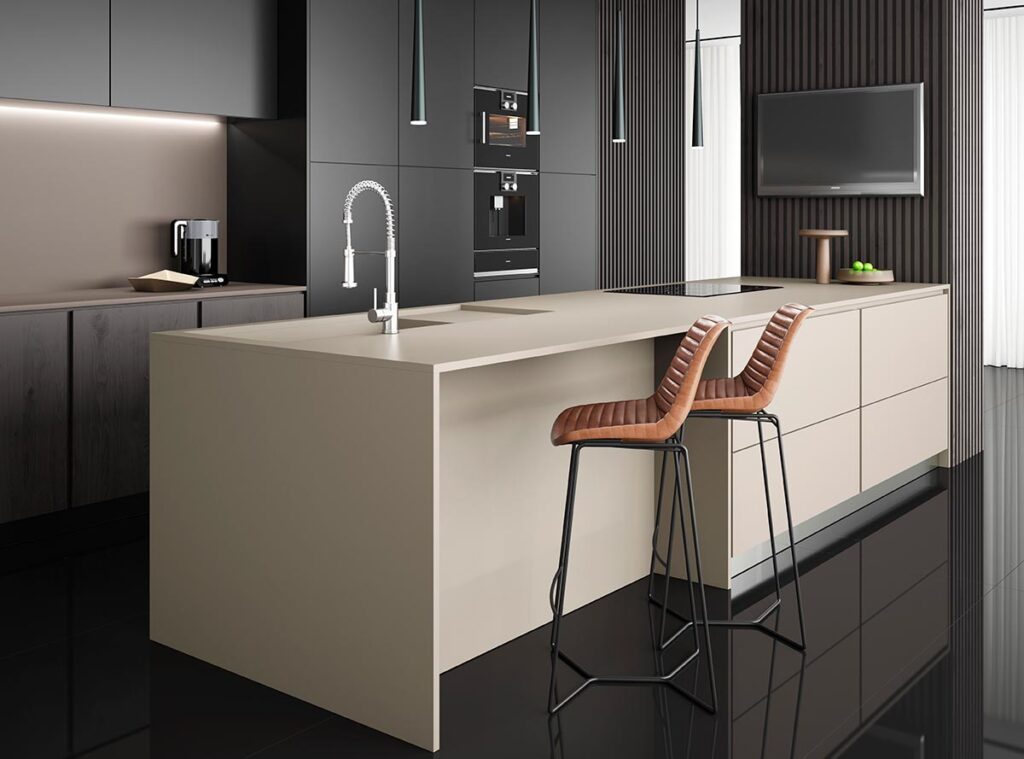 Don't | Static kitchens that are just for cooking
Kitchens with a single layout are officially 'out'. Go for convertible, compact kitchens to save space and enjoy greater versatility and adaptability to each occasion.
4. Do | Marble countertops and backsplash tiles
Marble never used to feature in kitchens… until now. Now not only are there kitchens with marble flooring, but with matching countertops and backsplashes. The ever-versatile Arklam allows you to easily pull off this 2022 kitchen trend with series like Calacatta Paonazzo or Calacatta Gold, the newest range. The wide choice of cuts and manipulations, as well as the various formats and thicknesses on offer, afford you the chance to create a fully coordinated Nordic-style kitchen with a matching island, backsplash and flooring. And the best part: faithfully replicating the marble veining and patterns you can only find in nature.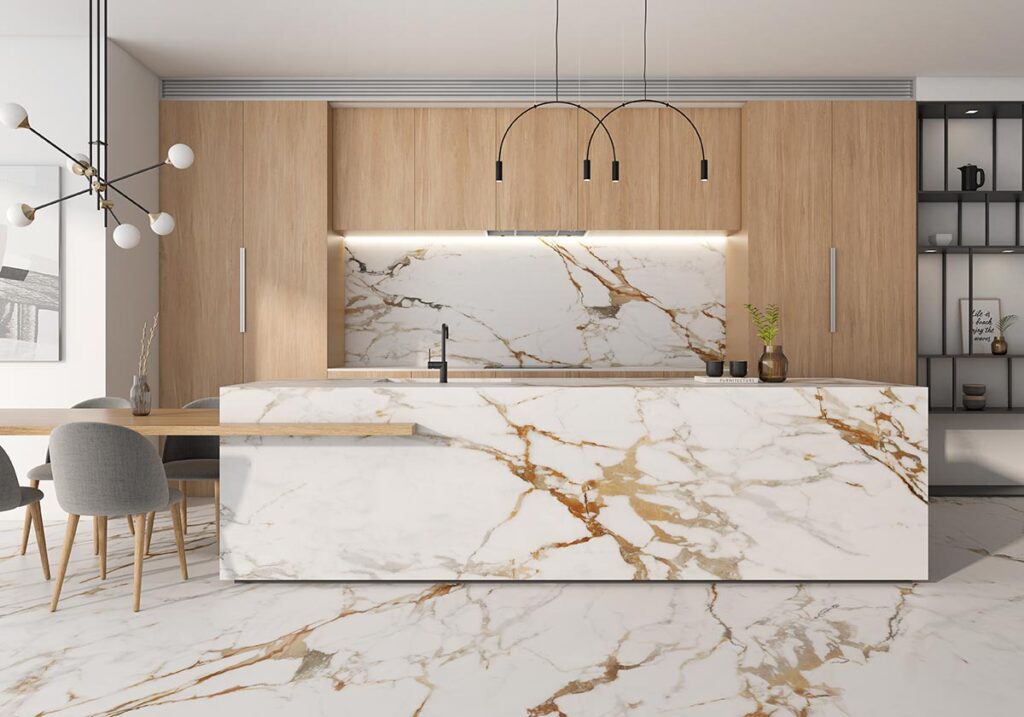 Don't | Goodbye to hydraulic or metro-style tiles
They may have served kitchens well for aeons, but we think this style is getting tired. If you go for neutral tiles, choose smooth ones or with trendy relief patterns and decorations, while if you prefer geometric patterns, stay away from hydraulic tiles. There are some really original and unique choices.
5. Do | Warm and cosy kitchens
If our kitchens are the main rooms we are to spend our time in — be it alone or with friends and family —, it's not surprising that the kitchen trends for 2022 call for warm, cosy and inviting décor. As for materials, opt for cosier solutions such as stone, wood, wallpaper and marble. The best thing about Arklam is that the products bear an almost uncanny resemblance to real natural materials, yet you get to enjoy all the technical and mechanical properties that only porcelain offers.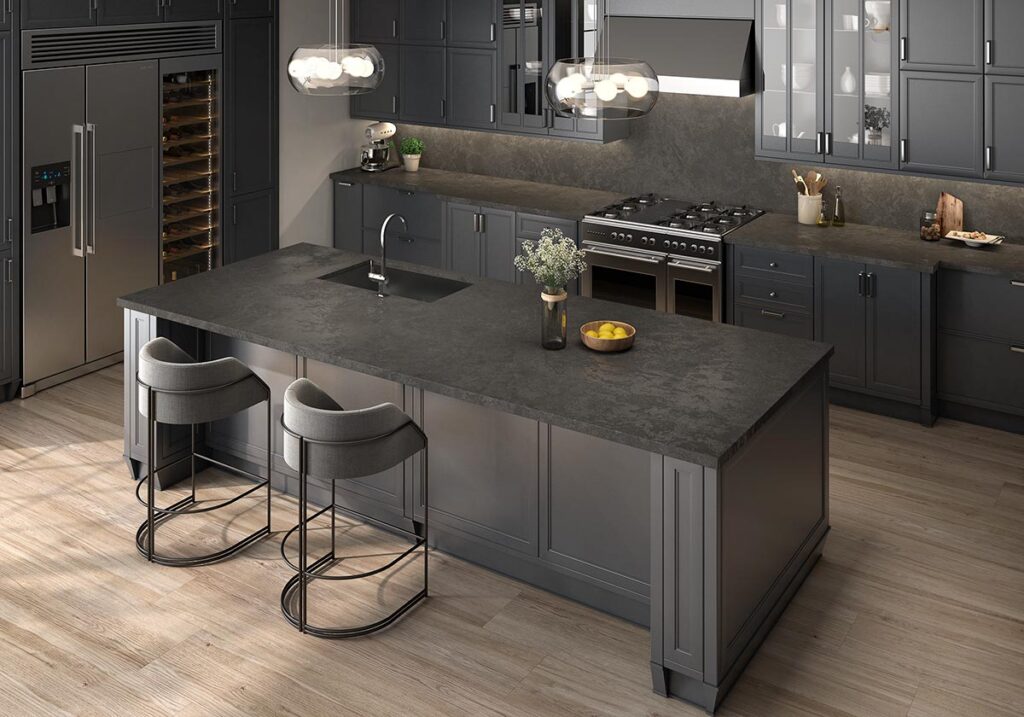 Another tip to create a comfier kitchen this 2022 is to deck out the breakfast bar or table area with textiles and fluffy cushions and leave a window for natural light to enter. Warm colours for the countertop and backsplash will also help: beiges and earthy shades vs. paler greys. What's your favourite colour palette?
Don't | Kitchens with cold materials
Banish cold materials when designing your new kitchen. And most importantly: avoid too much steel and glass.
6. Do | 'Green' kitchens
Green, just as it sounds, — and forgive us, Very Peri, although we also have a marble kitchen with the 'it' colour of the year — greens are back with a vengeance in the kitchens of 2022, invoking renovation, rejuvenation, energy and a connection with nature. Use an understated green for the flooring, wall tiles and countertops, or slip pops of green in with plants.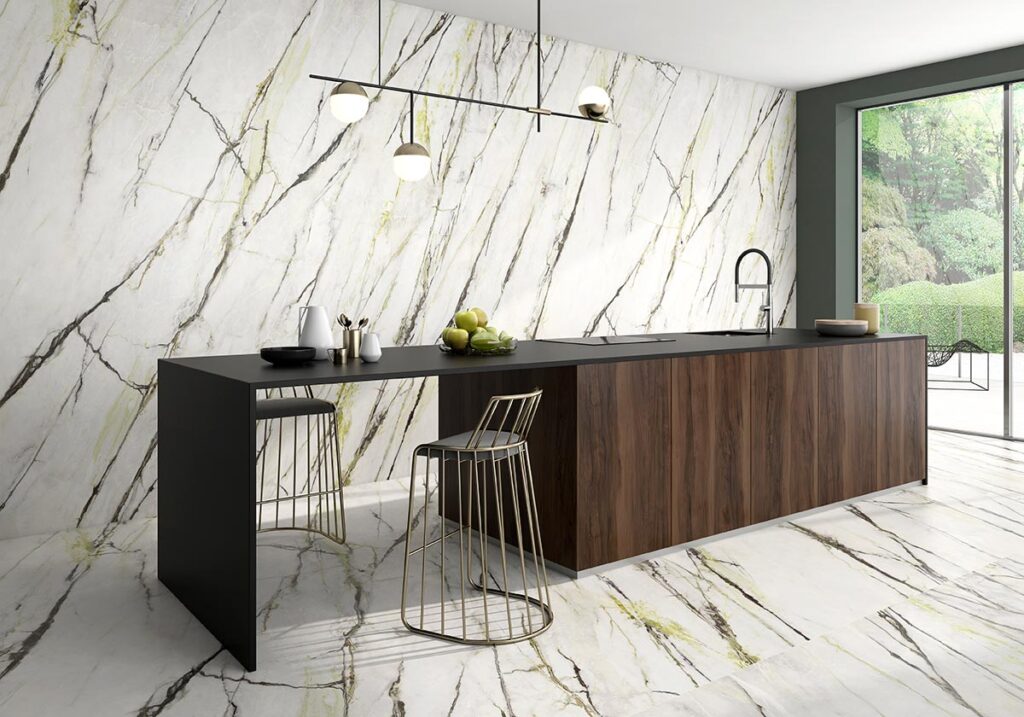 However, when we talk about green, we don't just mean the colour. Sustainable kitchens are a huge trend this year (and in years to come, no doubt). And we say in years to come because worrying about the future of our environment and the people who live in it is a commitment we must undertake and never give up on. We must strive to raise awareness and set an example to build a better tomorrow for future generations.
With the #ReBuild the Future initiative, Arklam not only bolsters its commitment to sustainability through continuous improvements to its manufacturing process that reduce emissions and save and recycle resources, but also promotes education and common sense to guarantee the future, our future and the planet's future.