White kitchens: 10 ideas for a bright, designer space
A timeless and elegant colour which adds plenty of light. White is a 'must' in kitchens suited to any design style. But do you know how to use it and combine it with other colours? We'll tell you.
Kitchens are a space for creativity. That is why light is so important, particularly in working spaces like the island or shelves. White is a colour known for adding extra brightness. White kitchens have become fashionable, not just for their ability to create the feeling of space (key for small kitchens); but because it is an elegant, light, timeless and versatile colour. Plus it's a colour suited to any design style: Nordic, minimalist, modern… as well as any layout, making any kitchen a designer space.
Have we convinced you to opt for a white kitchen? Get inspiration with our white kitchen ideas below, whether you prefer total white or splashes of colour.
100% white kitchens
Who says that an all white kitchen is cold or boring? By combining achromatic furniture with a white island and tiles, you can achieve a modern and bright finish in line with the 100% minimalist style. To give you an extra designer touch, we recommend choosing a marble-style white, like our Atlantis sintered stone. A quest for the perfect design has allowed Arklam to achieve a very similar grain to natural material. Moreover, Atlantis is available as 12 mm for countertops and 6 mm for wall and floor tiles, giving a seamless effect to the entire kitchen space.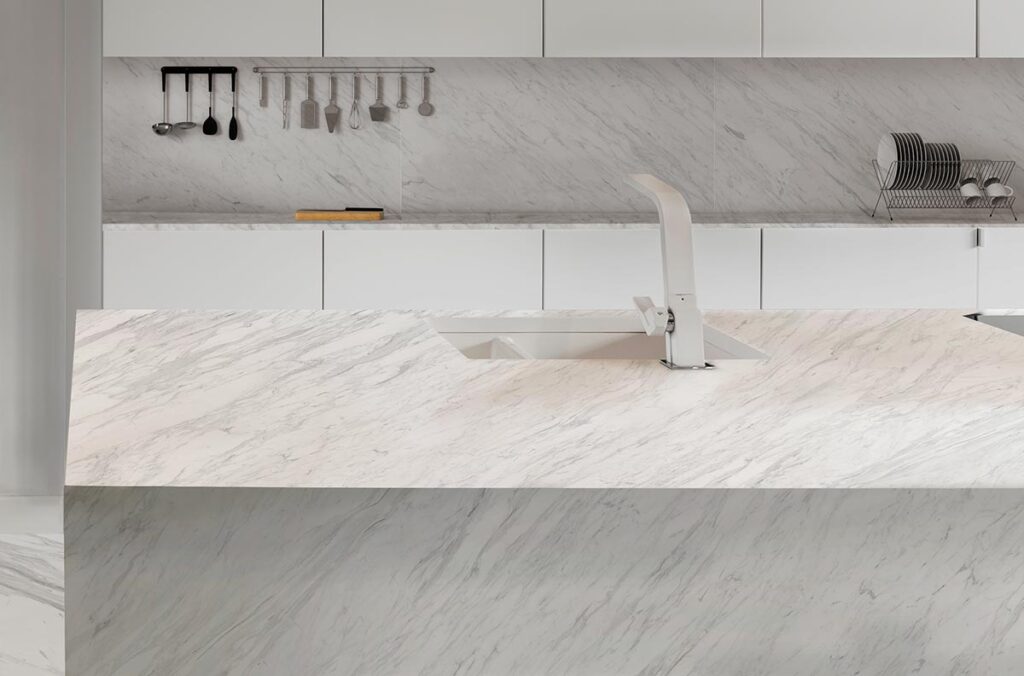 If you prefer total, total white, you can opt for white finishes even for the equipment and decoration. Neutral white fittings and a white finish sink and taps marry perfectly with a marble-style look like Volakas.
One of Arklam's benefits is that it is a material which allows custom cuts and versatility, allowing the sink to be seamlessly fitted or covering it for a continuous and uniform look.
White and wood kitchens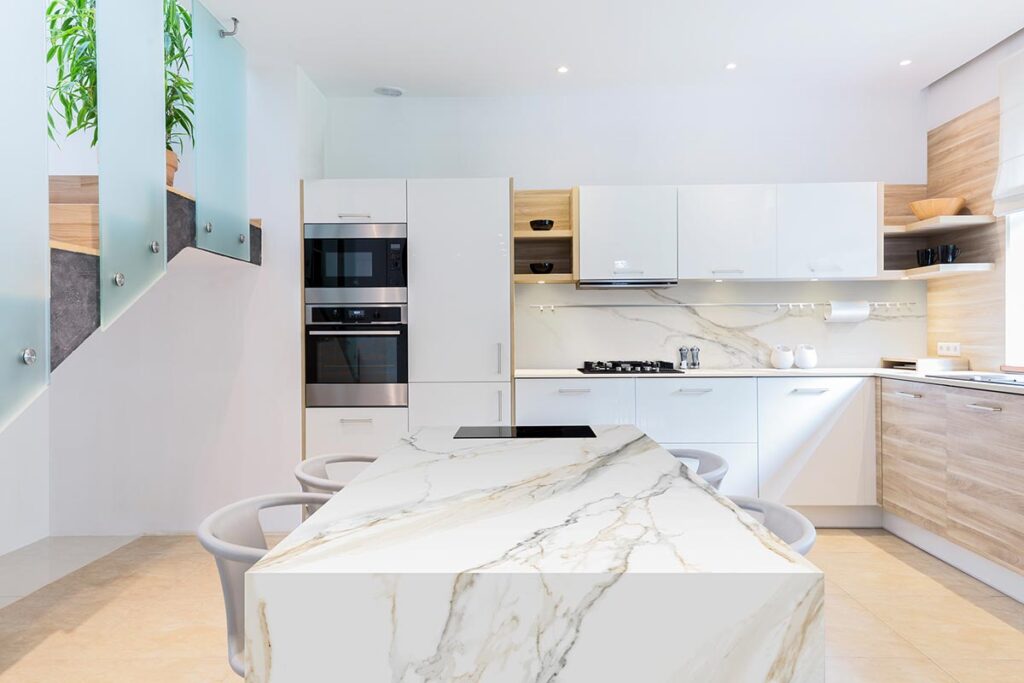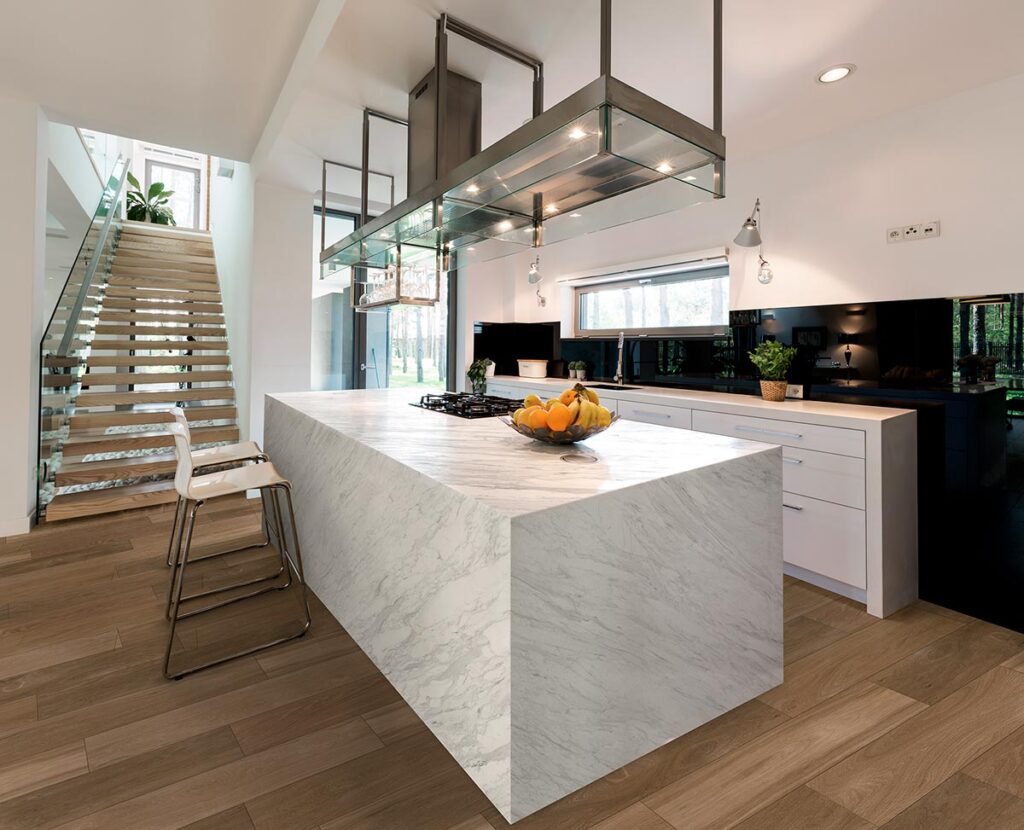 The key principles of the Nordic style: whilst white provides brightness and space, wood offers the warmth required to feel comfortable at home.
The options for white and wood kitchens offer countless design and layout options, from a completely white kitchen with wooden fixtures to kitchens with wood flooring created using wood-imitation tiles. For modern white and wood kitchens, Arklam offers mix & match wooden countertops and marble backsplashes. An original pairing: timeless and trendy.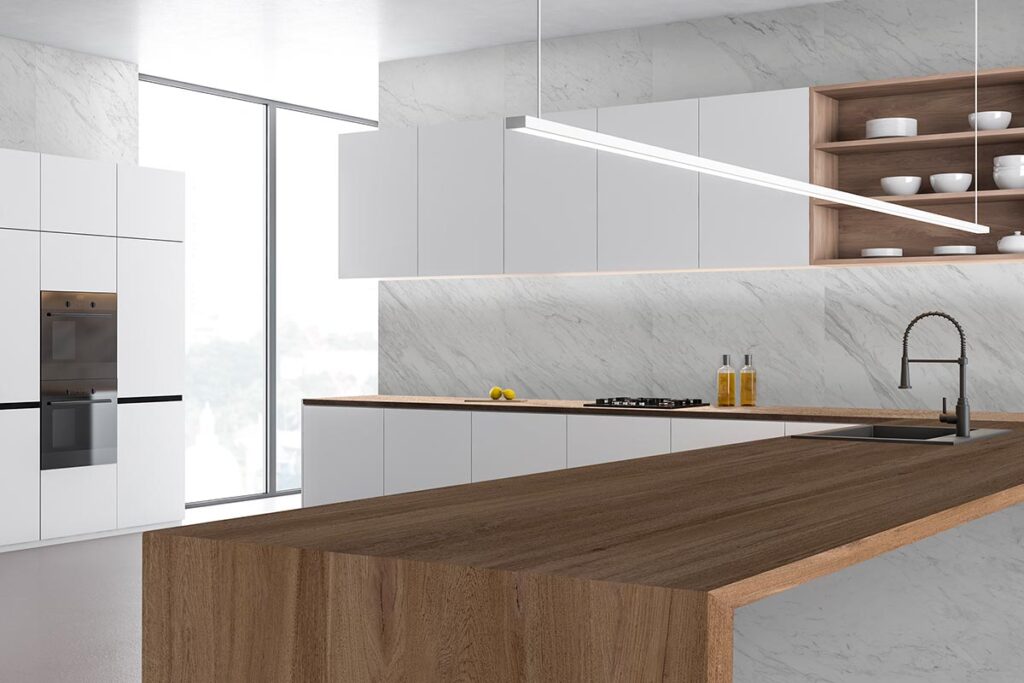 Beige and white kitchen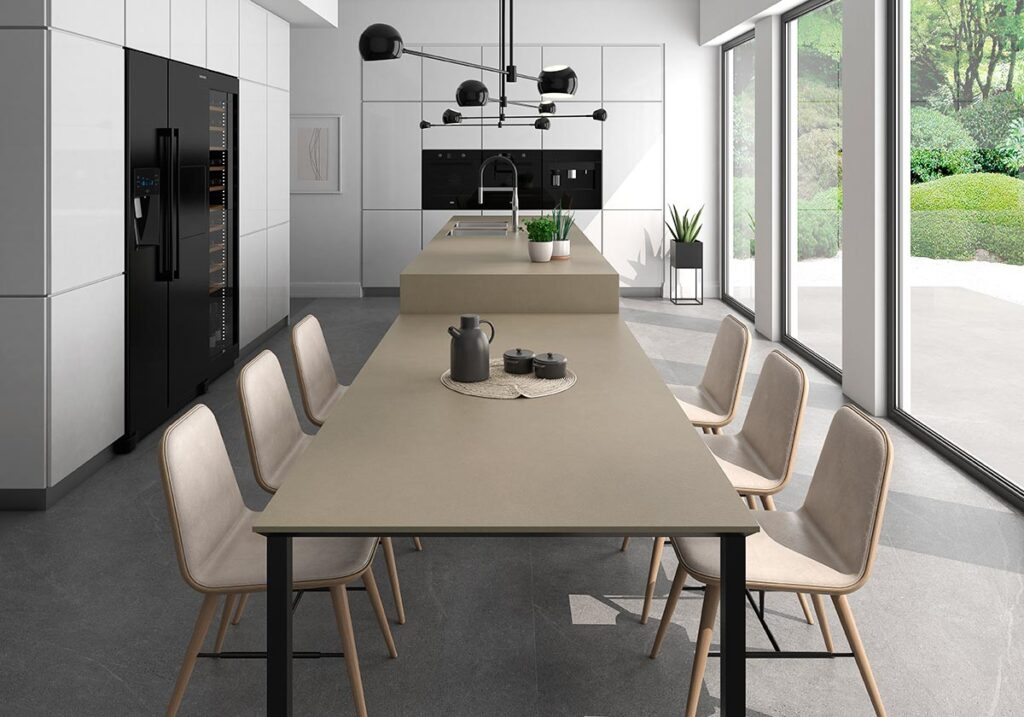 For fans of neutral colours, beige is the ideal option if you don't want an all white kitchen. Although you can opt for beige in the décor, we suggest adding it to an island with proposals like Ágora Visón. You can either add chromatic touches with another colour on the backsplash, or cover it accordingly thanks to Arklam's versatile formats and fitting.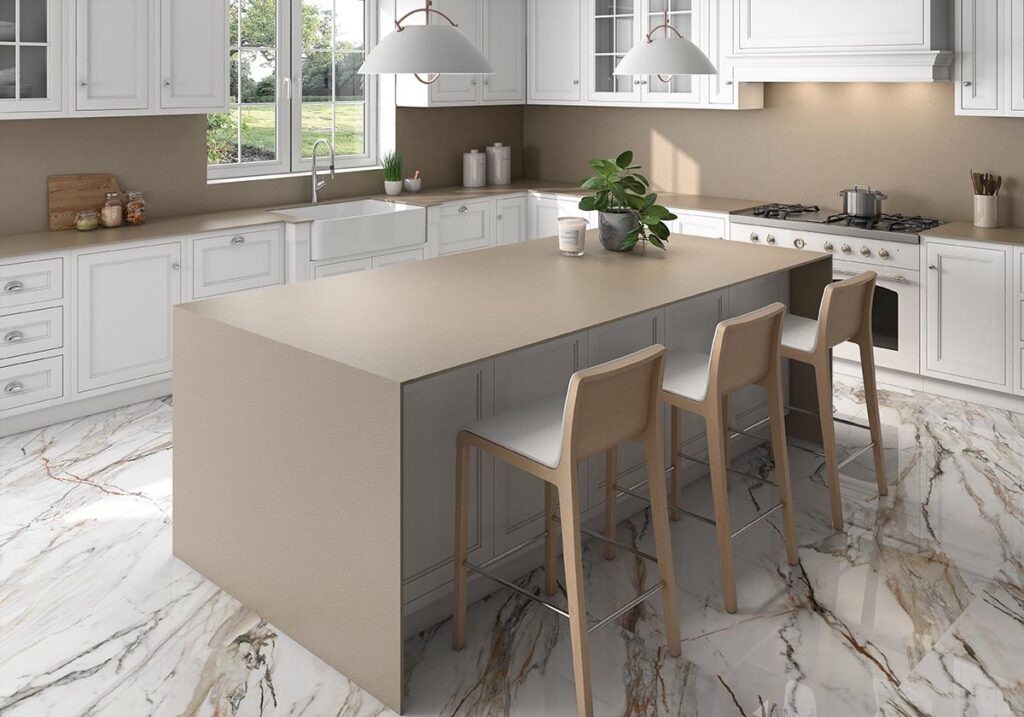 Grey and white kitchen
If you are thinking about new forms of decoration (but without moving away from the colour scheme), you can opt for a grey and white kitchen. If you don't like this colour too much because it makes a space darker, you can add it in small touches, like the fixtures, the island or the backsplash. If light is not a problem in your project, choose grey and black for fixtures, and keep white for the floor.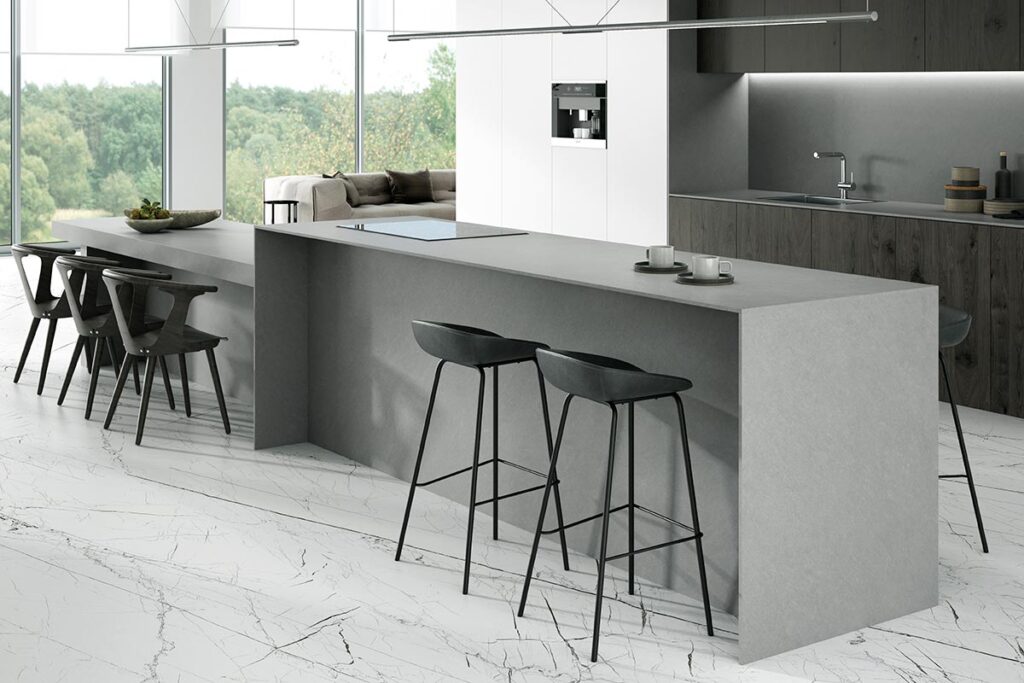 Black and white kitchen
For black is black fans, we offer black and white kitchens for an elegant and sophisticated feel. Without overdoing it with black colours, it can be original and visually strategic to highlight the island with this colour. And given that black & white is always a safe bet, why not?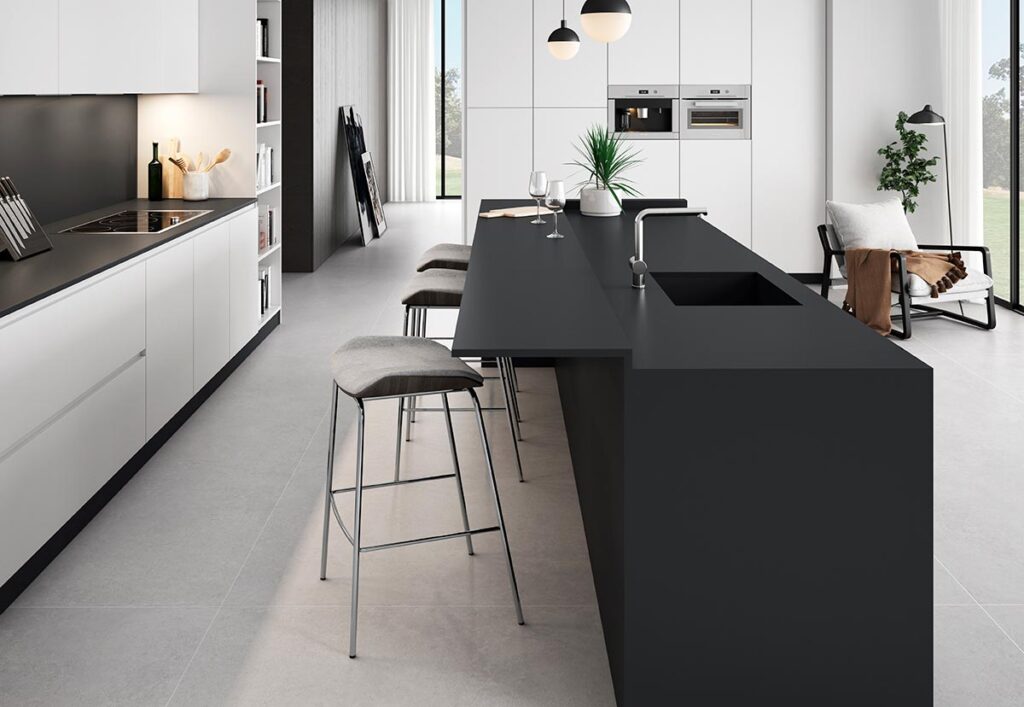 Navy and white kitchens
With Classic Blue the 'Colour of the Year' by Pantone, it's no surprise that blue is also a 2020 trend in kitchens. As a strong and striking colour, we suggest only including it in the fixtures. Retro or vintage style furniture can be the perfect companion to marble finishes like the Calacatta Paonazzo, one of Arklam's newest collections. Its oxidised imitation marble made using special dyes in the production process creates an elegant and exclusive finish for the countertop, backsplash and tiles in this kitchen. You can also choose it in Hond finish, soft to the touch, or glossy, a version which will give a bright feel to any room.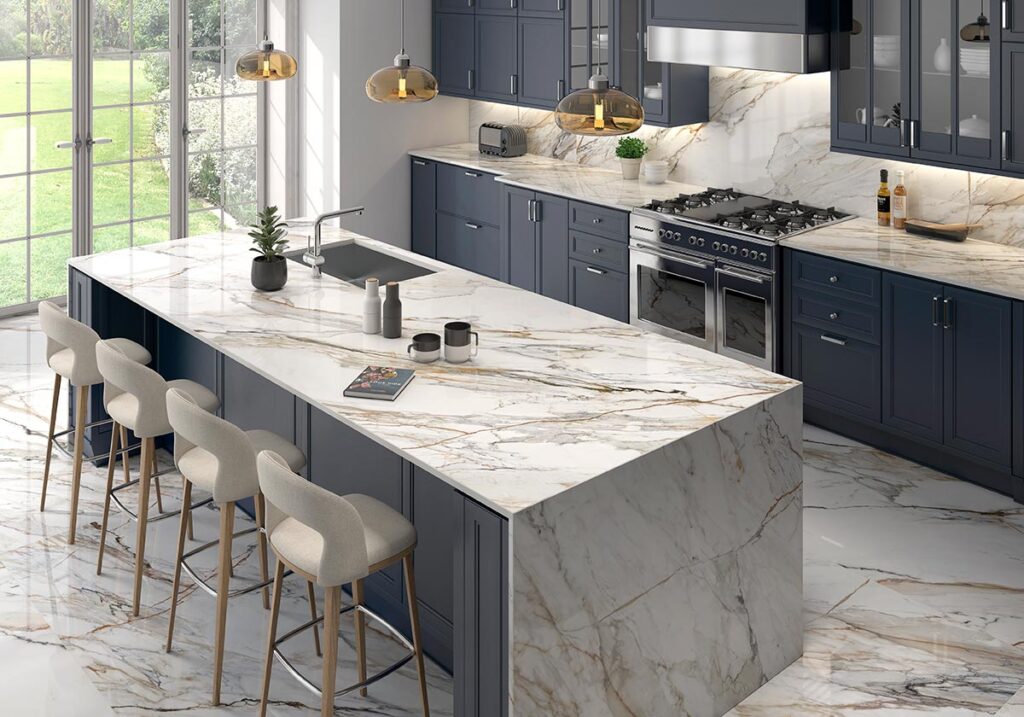 Other blue shades can be original in kitchens, such as aquamarine, which gives a dynamic and unique feel to this L-shaped kitchen. Arklam Estatutario has been used as a countertop and table surface in this space, whose recently launched 20 mm format looks like natural marble.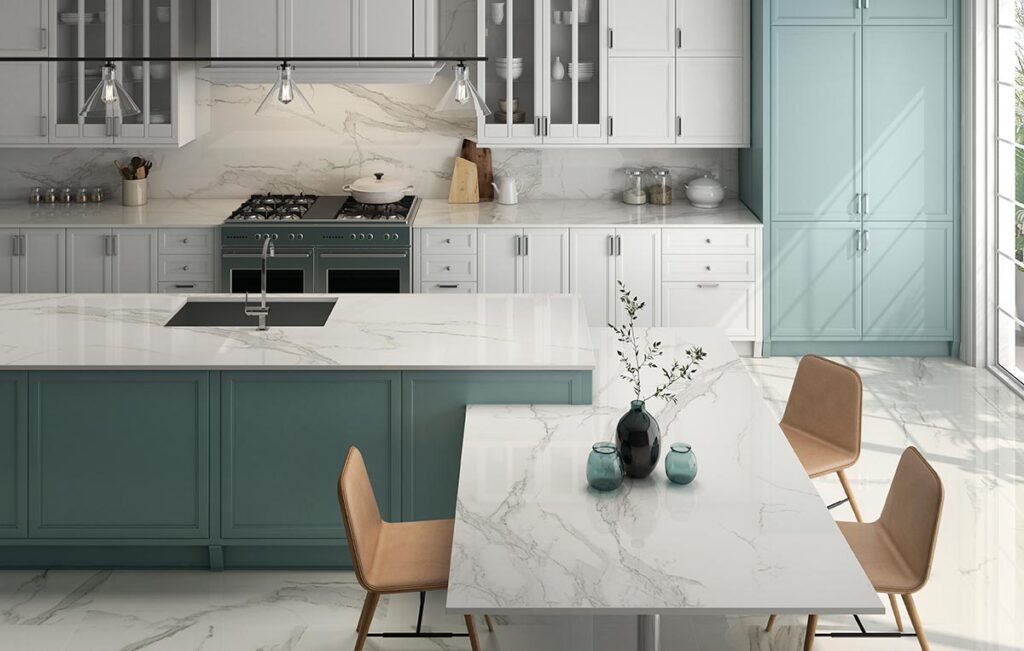 What is your perfect inspiration? Follow our Pinterest board and find all these white kitchen ideas.
You can also take inspiration from the latest Arklam Countertops catalogue.