Nordic style kitchens: « Scandi-modern » inspiration for your most functional space
The Nordic style breaks out of the living room and enters the kitchen. The kitchen is a workspace but also the room where people come together, so warmth, the balance of elements, and materials such as marble are all very important. Welcome to Scandi style for modern kitchens.
Nordic style has been one of the top trends within the decoration sector for several years now. This is not only due to its clean and luminous aesthetic, but also because it offers a more leisurely and balanced way of life which is typical in the northern European countries.
However, over the years, certain spaces have tended to be decorated in this way, such as the bedroom or the living room. Even so, the Nordic style is perfect for the kitchen. As a place to work and to get together, lighting is of utmost importance in this room, so be prepared to unleash your full creativity. It is also crucial to consider the usefulness of each element, especially in their arrangement and the size of the work areas.
As such, the Nordic style not only allows you to have an attractive, elegant kitchen, but one that is functional and easy to clean and maintain. This is especially true if you choose materials that are fit for purpose. Next, let's take a look at the best ideas to achieve a perfect Nordic style in your kitchen with Arklam.
A Nordic-style kitchen with marble as the star feature
The Nordic style, when applied to the kitchen space, allows us to innovate in terms of integrating materials that are perhaps not so common in the decoration of other rooms. Marble is incorporated into Nordic kitchens as a current trend in the « Scandi-modern » style. With such elegance and character, any type of marble is ideal for giving an exclusive touch to a kitchen island or splashback. However, Arklam goes one step further and proposes, within its Nordic-style marble solutions, the new Calacatta Gold collection, whose exquisite rusted veins match perfectly with white walls and wooden furniture.
If this modern Calacatta kitchen seems like a little too much for you, let us suggest something else: a kitchen which combines a marble island with wooden furniture. Syrac is a more delicate and minimalist marble countertop which takes its faithful inspiration from Dolomite stone. Its Premium features take centre stage in a space which seeks to bring the outside in and allows natural light to enter.
There are many advantages to Arklam as a material of the future, starting with its antibacterial character and easy maintenance. Its different levels of thickness and easy handling and placement allow us to coordinate the flooring and integrate a sink into the island. What do you think of these chic Nordic-style kitchens?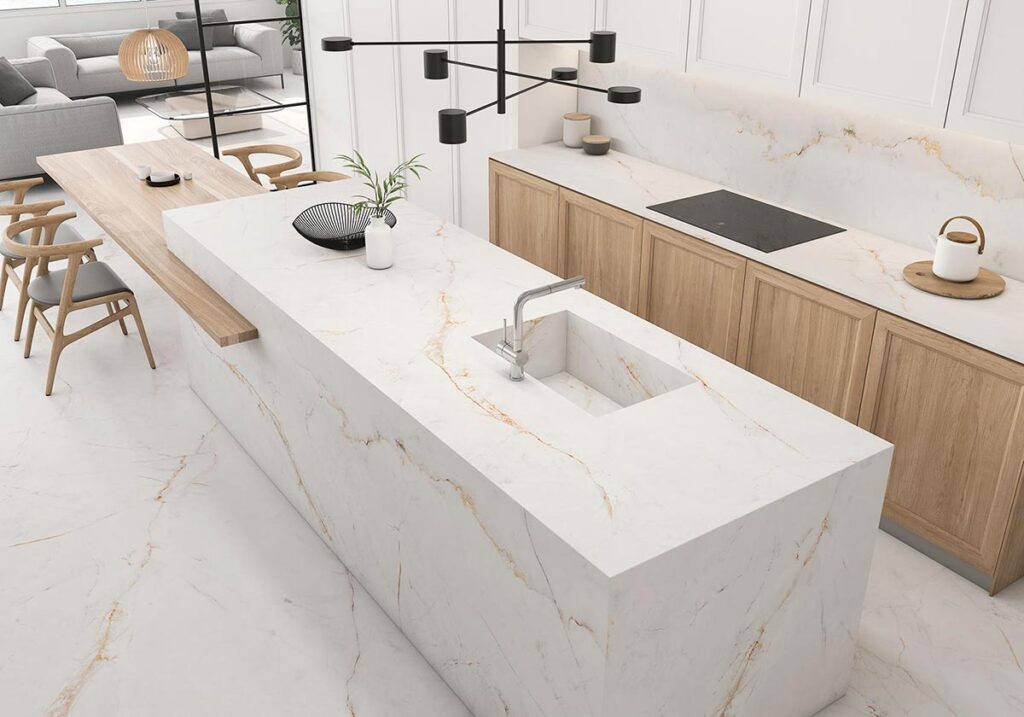 Scandifornian kitchen style: living in Monterrey
An updated version of this Nordic philosophy which was born in the most exclusive homes in the world. Far from Scandinavia, in California, Nordic-style homes open up to take advantage of the warm climate that Californians enjoy year-round. This new trend, seen in luxury homes, has been named as Scandifornian. If you want to emulate it in your kitchen, choose white or soft, neutral colours as the basis of the space. The rooms must be spacious and uncluttered, and open out onto the exterior to enjoy those incredible views. And if you're looking for something different, the Scandifornian look also complements calm, pastel tones such as those in our Bateig Blue kitchen. As for the furniture, it simply has to be wood, wood and more wood.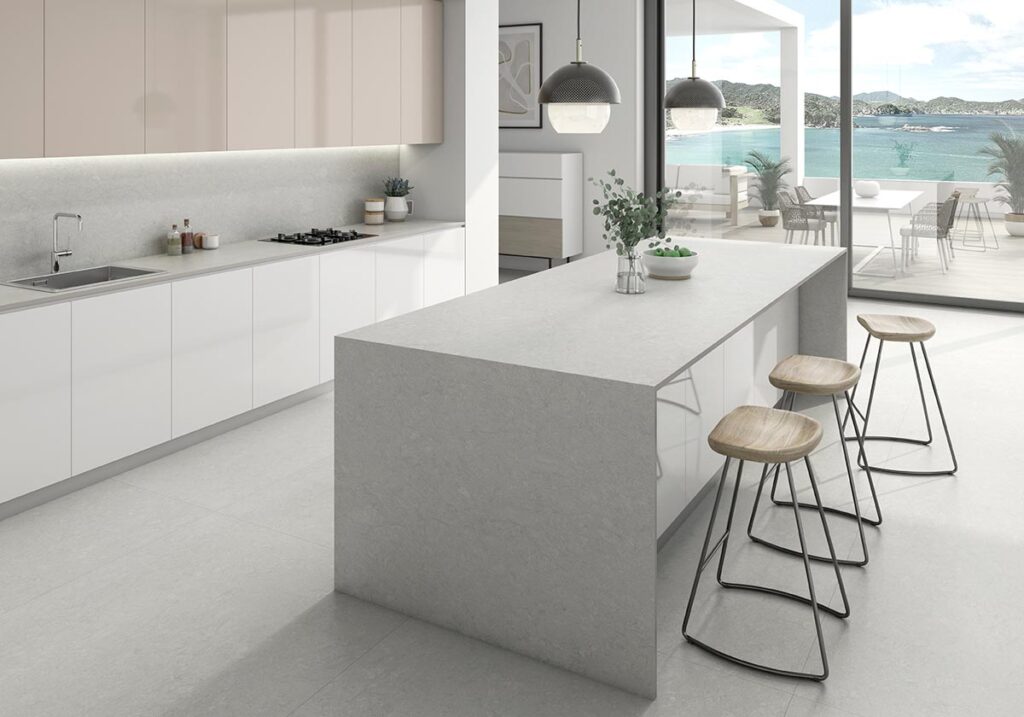 Nordic-style kitchens with wooden countertops
Wood is an absolute must in any Nordic-style room. It is an icon of Scandinavian interior philosophy and offers extra warmth and cosiness to any design. In Nordic-style kitchens, you can choose to introduce wood through the furniture, or integrate it into the flooring or the countertops.
Arklam proposes its Canada series of wooden-effect porcelain for kitchen countertops which takes advantage of its cosy, aesthetic properties while avoiding its delicate nature. A very current design with all the features of sintered stone.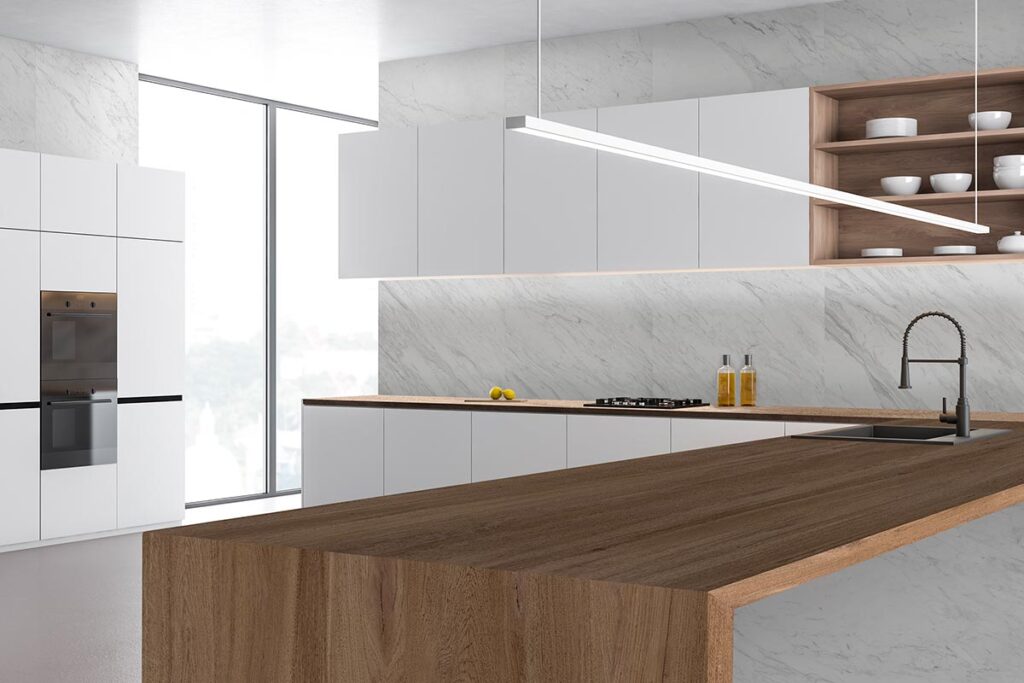 White kitchens in a Nordic style: where playing it safe pays off
White kitchens are key within the minimalism movement but can also offer a dose of Nordic style with lots of light and space. If you know how to effectively organise the kitchen layout, you can achieve the perfect balance between the functional and the aesthetic, thus complying with a key component of Nordic style.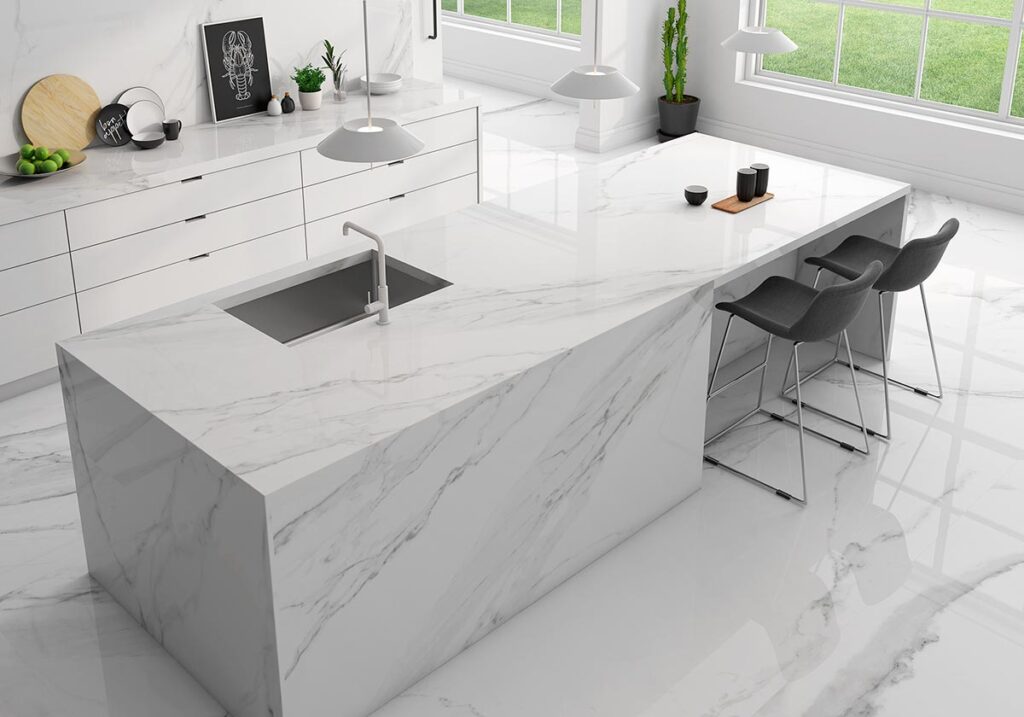 Industrial, Nordic-style kitchens: the key is to mix and match
We anticipated the reinvention of the Nordic style in the kitchen, not only by opening up to new materials beyond wood, but also to other decorative trends to create an exquisite mix and match. This is the case of the rustic Nordic style or the industrial Nordic style, which combines whites with other shades such as grey and black. In furniture, forged pieces, such as lamps and stools, take centre stage and metal pieces can be used to separate different spaces. It's the perfect way to unite the decade's two best decorative styles. Do you dare? Yes or no?