Calacatta Green, Arklam's premium collection in the style of Taj Mahal marble
Arklam's continued quest for innovative designs and the use of special dyes led the firm to create this unique product, which closely resembles the natural material.
Along with Calacatta Paonazzo, it's a faithful reproduction of the most premium marble, joining nearly 90 sintered stone designs in thicknesses of 3, 6, 12 and 20 mm.
The COVID-19 pandemic and the lack of industry events did not stop Arklam from continuing to research and work tirelessly to launch new versions of its revolutionary sintered stone product. In addition to its excellent technical properties, the product stands out for a wide variety of looks, with nearly 90 different versions in thicknesses of 3, 6, 12 and 20 mm.
Recently, the firm has gone even further, delving into the design of parts never before seen worldwide in large format porcelain. This includes Calacatta Green and Calacatta Paonazzo, two collections inspired by the unique marble presented in September during the virtual event Fiera At Home.
Calacatta Green, marble-style luxury like the "Eighth Wonder of the World"
Arklam's continued research for the best materials in nature led the brand to consider the Taj Mahal itself. The use of special dyes and cutting-edge ceramic production technology has allowed it to create porcelain sheets which reflect the very same marble covering the walls of the Wonder of the World. A product "worked down to the millimetre, with a depth and mix of colours" which is "one-of-a-kind", only mined from the "best natural quarries", explains Rami Hamze, CEO of Arklam. "We searched and searched again to find the 'birthplace' of this product, selecting the best parts to reproduce them at Arklam just as it deserves", he adds.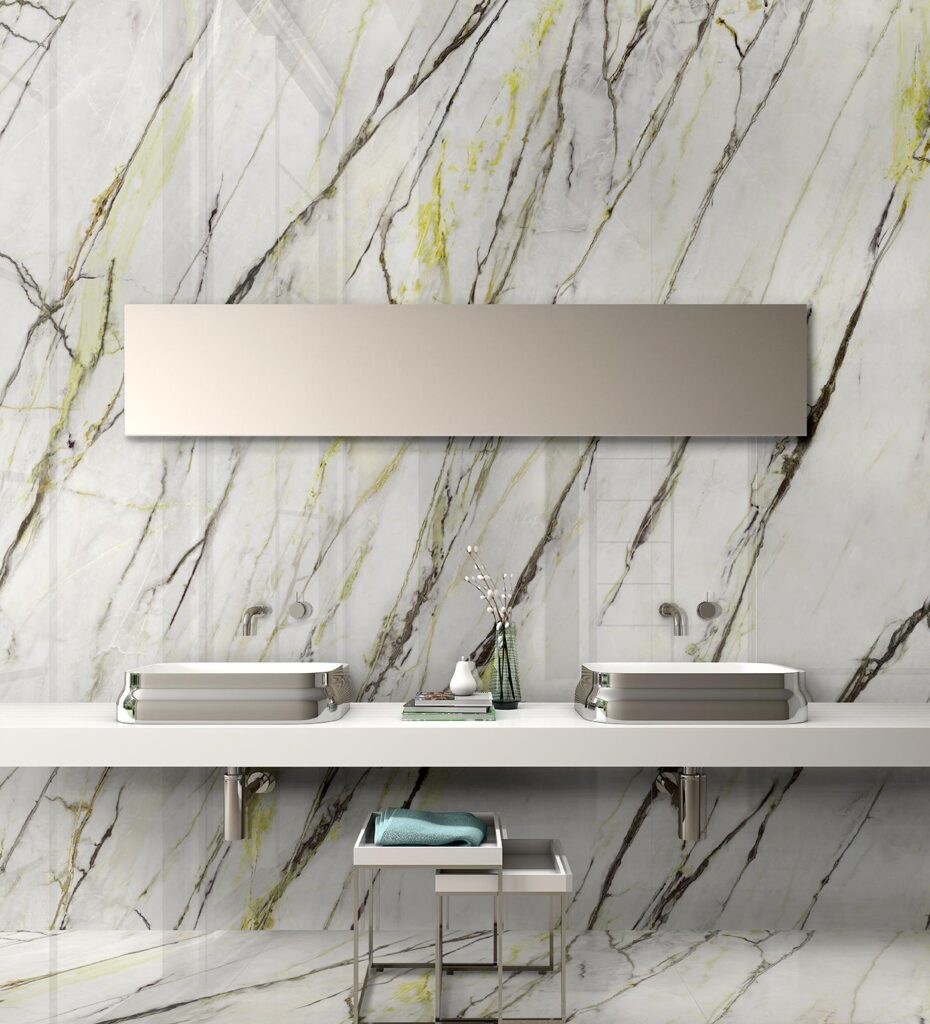 The unique features of Calacatta Green include its varied designs and greenish colour, as seen in the original stone. In 1200×3000 format and 6 mm thick, this Arklam collection can be used to create a seamless space with wall and floor tiles. It is available in two finishes: Polished and Hond, which is pleasant to the touch.
Calacatta Paonazzo, an oxidised look in the kitchen
Another new Arklam collection created with special dyes is Calacatta Paonazzo. A unique and beautiful porcelain, as it imitates marble which has oxidised over time.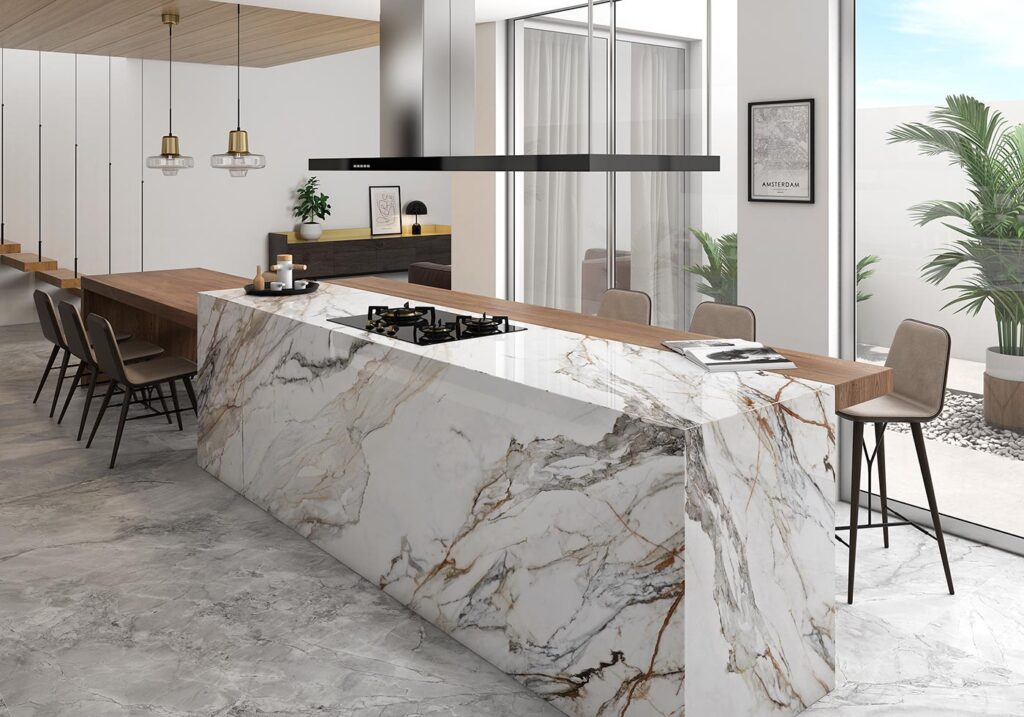 A collection based on various facets with up to three different part designs to create open rooms with a seamless feel. The large format (1200×3000 mm) and three available thicknesses, 6 mm; and 12 and 20 mm for countertops, can be used to create an endless kitchen. Arklam adds this premium design to its other benefits for kitchens. It's easy to clean and maintain, stain resistant and offers sterile or anti-bacterial properties.