Arklam's new sustainability campaign wants to demonstrate that another future is possible
Under the slogan 'REbuilding the future', Arklam encourages companies, organisations and people to reflect and undertake, starting now, new actions to guarantee sustainability and help reduce their carbon footprint. It is a commitment that the brand has already taken upon themselves, and this is evident in their new latest-generation products, which cut down on energy consumption, reuse resources such as water or recycle their raw materials by up to 50%, among other important steps.
The time is now. Arklam knows this, and that's why this 2022 it's launching the 'REbuilding the future' initiative, a sustainability campaign with which they will set out to raise awareness among companies, organisations and people about the importance of taking measures to achieve a better future for us, our loved ones and future generations.
But what Arklam also knows is that the best way to raise awareness and get the message across to society is to lead by example. To this end, the company is working on the launch of large-format products manufactured in a manner that reduces resource expenditure, thereby keeping emissions to a minimum and fostering circular economy. Their new product plan will be released in the coming months and will bring their bold, cutting-edge designs inspired by natural raw materials to kitchens around the world.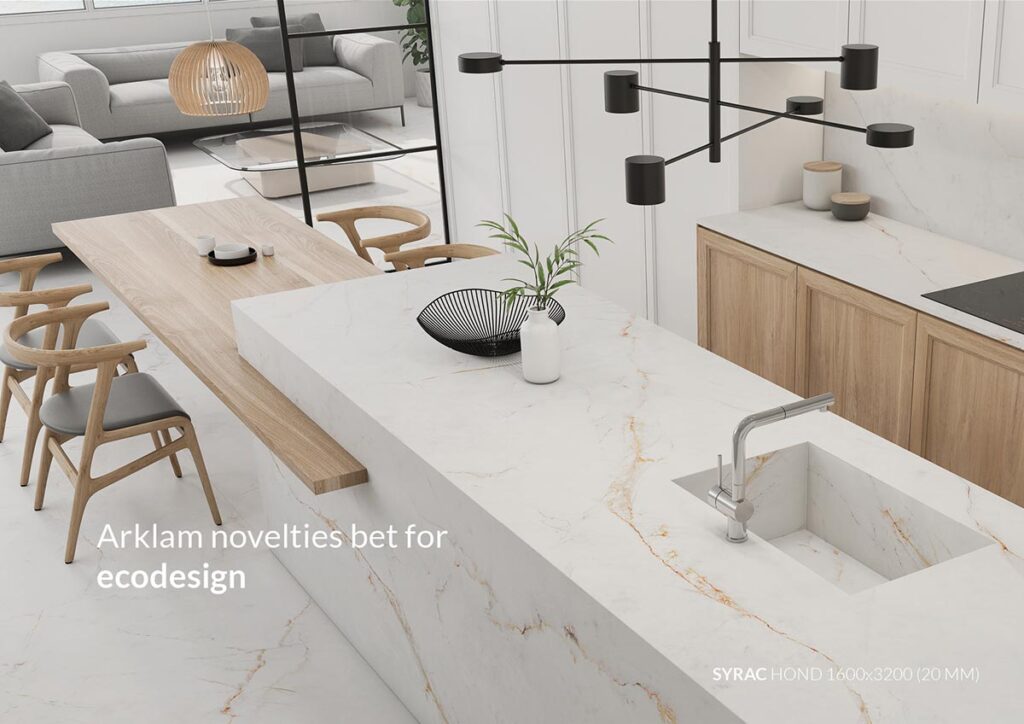 A challenge in keeping with the 2030 Agenda for Sustainable Development
In September 2015, at the United Nations General Assembly, countries around the world, including Spain, signed the 2030 Agenda for Sustainable Development and its 17 Sustainable Development Goals (or SDGs). This roadmap was adopted by the Spanish Government as the Ministry of Social Rights and 2030 Agenda, which addresses economic, social and governance issues, as well as ecological and environmental issues. These include sustainable water-resource management to ensure universal access to water, energy saving and responsible production and consumption, among others. Arklam is permanently committed to taking actions that meet the agenda goals, promoting more responsible habits towards the environment and 'rebuilding the future' from the most humanistic point of view: thinking about people.
'REbuilding the future': the campaign's origin
Sometimes it's important to stop and reflect to learn from our mistakes and focus on our successes to move towards a better future. Taking a step back to build back stronger. Deconstructing to rebuild. At Arklam we not only reflect, but invite you to REflect on what small BIG steps each of us can take to improve our environment. Being sustainable is a decision, so let's make it happen TOGETHER.
Arklam also takes the prefix RE- to pay tribute to the 7Rs of sustainability — Redesign, Reduce, Reuse, Repair, Renew, Repurpose and Recycle — to demonstrate the initiatives the brand backs and intends to continue backing as it works on its mission to preserve the planet. Because Arklam redesigns and designs its pieces by thinking about the nature that inspires its large plates; reduces clay and ink consumption as well as gas in tile production by up to 50%, thereby minimising emissions; repurposes and reuses 100% of the residual crude materials from its production and reincorporates them into the manufacturing process; recycles up to all of its waste water and constantly renews its formula and industrial machinery to continuously optimise its processes and make them more effective and efficient.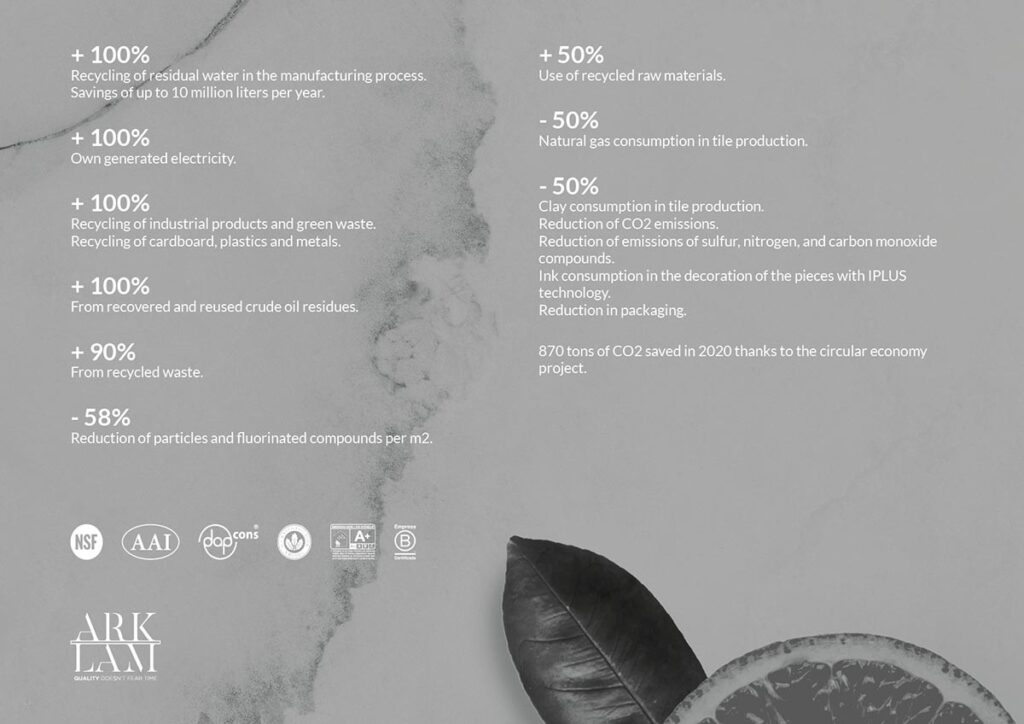 In fact, Arklam's production facility was one of the first in the world to receive the B Corp certification, a recognition of not only the high quality of its products, but an official accreditation of its commitment to operating for the good of the planet and the worldwide community.
Arklam also has other certifications including NSF, AAI, DAPcons, regulated by ISO 14025 and 15804, U.S. Green Building and the VOC Content Test Certificate, and has contributed to obtaining LEED points for the sustainable building certification.
Arklam wants to continue making this lower environmental and energy impact a daily practice and its raison d'être. Working to improve people's lives and make the world a better place. Because it's our job to start making decisions that will change tomorrow.
The future is yours. Ours. Everyone's.
Arklam, taking you forward.
▸ Stay tuned to Arklam's social media pages to learn more about the campaign.
↠ Watch the video of the campaign.