Arklam makes a comeback at Cersaie with new large-format, hyper-realistic pieces
The sintered stone firm is poised to celebrate finally meeting its customers in person again at one of the industry's leading events worldwide: the Cersaie fair in Bologna.
Arklam will be sharing a space with ITT Ceramic in the exact same location as last time – Hall 19, Stand B49 – showcasing its most outstanding collections including three new stone and three marble ranges for use on kitchen countertops as well as indoor and outdoor areas.
Arklam is jetting back to Bologna to showcase its latest new additions, just two years after the last Cersaie event. This is one highly-anticipated event – and not only because of its international renown: it's also set to be one of the industry's first face-to-face events in the wake of the Covid-19 pandemic. Arklam is back, and more excited than ever, ready to reunite with the world of architecture and design at its stand alongside ITT Ceramic in the same location as last time: Hall 19, B49. So what's on the agenda? Finally showing its customers what it's been working on recently. The company has put all its efforts and relentless dedication into launching large-format, hyper-realistic slabs inspired by natural raw materials.
New stone and marble. The same technical performance
As well as all the collections Arklam launched online in September 2020 including Calacatta Paonazzo, Calacatta Green, Mystic and Vulcano, the company will be dedicating a space to its six new solutions in 6, 12 and 20 mm thicknesses. Three stone products and three exclusive marble pieces. All unique, all in on-trend hues, and all offering a wealth of creative potential for floors, walls, kitchen islands and countertops. Each and every one comes with the technical and mechanical performance Arklam is renowned for, guaranteeing safety and unique product identities.
Two of the stone-look collections Arklam will have on show are Bateig Verona and Bateig Blue. These neutral and exceptionally-uniform surfaces feature a fine grain evoking the nuanced palette of its natural stone namesake, found in Alicante. Bateig Blue, with its exquisite greyish-blue hues, is a distinctly cooler shade; whilst Bateig Verona is altogether warmer, sure to brighten up any space and imbue kitchens and interiors with the fresh look of beach sand.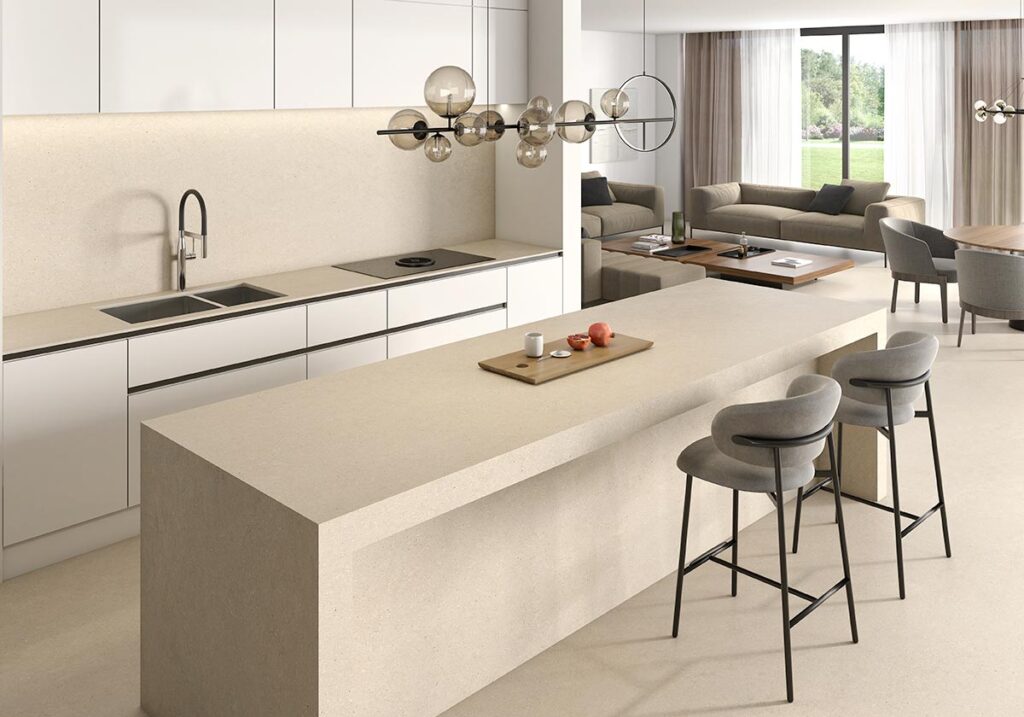 Arklam takes us back to the times of the Persian Empire with Rosa Persia, an exotic and elegant grey stone design featuring rich and diverse graphics. The incredibly natural aesthetic features stone-look elements combined with heavy, crystallised white veins. A rich and versatile palette, perfect for premium spaces. Available in 1200 x 3000 (6 mm thick) and 1600 x 3200 (12 mm thick) formats.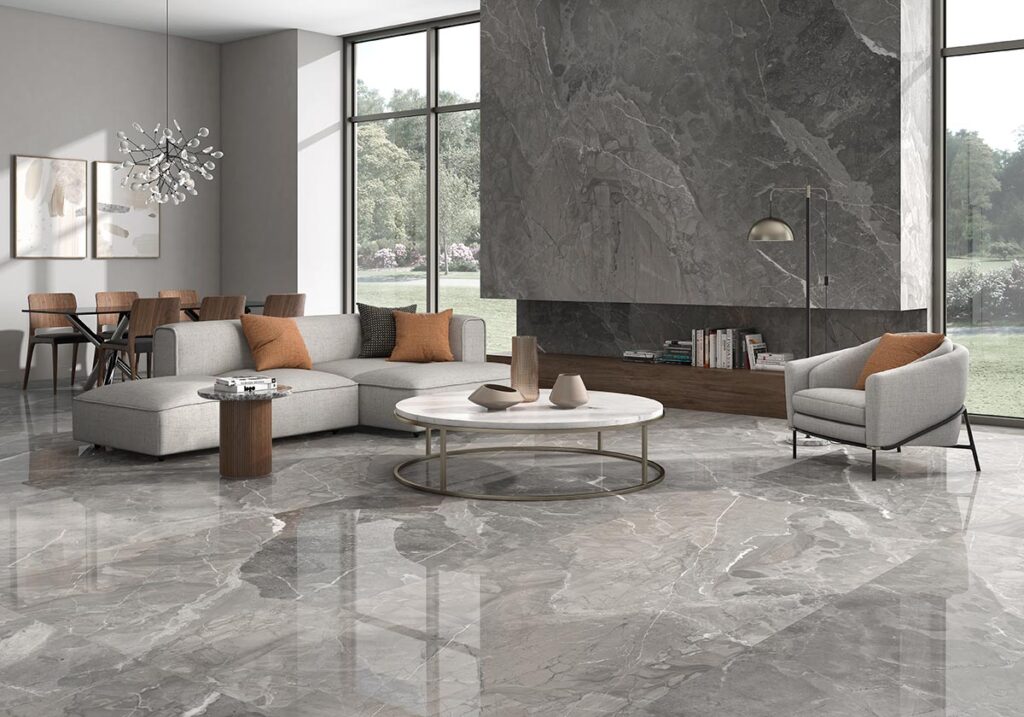 Arklam has been trawling the finest quarries to perfect its marble-look collections, taking inspiration from classic marbles like Calacatta and Dolomite. And it's done it, with Calacatta Gold and Syrac. These designs feature standout, hypnotic veins in a rusty colour on a white background. Lilac takes its inspiration from its namesake; the sweet-smelling, purple and white flowers of the lilac bush. The unique coupling of white marble with violet and/or blue veins will give any residential or commercial setting a wonderfully refreshing ambience. The three marble types include a 1200 x 3000 format slab (6 mm thick) as well as versions suitable for kitchen countertops, benches and furnishings: 1600 x 3200 in 12 and 20 mm thicknesses.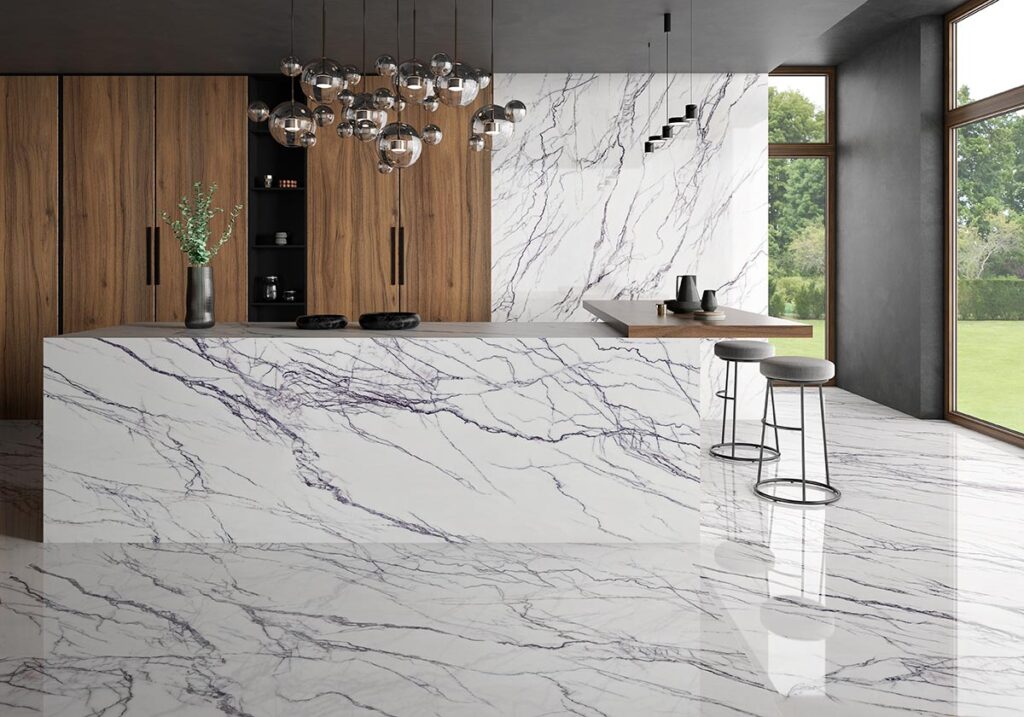 A stand designed for – and by – large formats
Arklam is set to take centre stage in the Cersaie space, but ITT Ceramic collections will also be there with its latest collections on show: the perfect supporting act. The display has been designed to show off the wonders of large formats, and professionals and other attendees will be able to get up close and personal with their latest slab designs – in their actual size – as well as get all the technical information they need. The stand has four strategic areas dedicated to its star, Arklam: the reception, meeting areas and exteriors. Visitors will be captivated by the reception area ('Syrac space') the moment they set eyes on the striking new marble. Lilac and Calacatta Gold will give shape to the tables in the meeting areas, and Rosa Persia will grace the whole of the stand's exterior walls, demonstrating the versatility and stunning potential of the Arklam sintered stone.
Cersaie has strict measures in place in light of the coronavirus pandemic: the stand has been designed to comply with all safety standards, allow a smooth flow of visitors, and maintain minimum social distancing of 1.5 m at all times.
And although Arklam will be attending one of the first, long-awaited face-to-face events of the year, it's also reserving a spot for its 360º virtual tour, running parallel to Cersaie. This multimedia zone will show visitors navigation requirements and other details about 'Arklam House': a virtual house where you can change the collections used in the rooms, from the living room to the bathroom or kitchen.
▸ Visit Arklam at Cersaie from 27 September to 1 October at Hall 19, Stand B49. We look forward to seeing you there! (Click on the box below and get your free ticket).
And you can now access the new digital catalogues: New Additions Catalogue 2021 Arklam 6 mm and New Additions Catalogue 2021 Arklam Countertops.